A team of national leaders led by E Abubacker, chairman of Popular Front of India has
undertaken an intense tour to reach out to the families in remote villages of Jharkhand,
Haryana and Uttar Pradesh who have succumbed to or critically injured in attacks by frenzied
mobs in the garb of cow vigilantism. The delegation included Abdul Wahid Sait, Secretary
Popular Front of India and Elyas Mohammed Thumbe, General Secretary of SDPI. The zonal
and local leaders of the organisation accompanied the delegation at various places. During
these visits to the places of Muslim and Dalit lynchings, Popular Front chairman exhorted the
survivors and local neibhouring people to fight for Inasaf (justice) and not to get contented with
perks in the form of Imdad (compensation).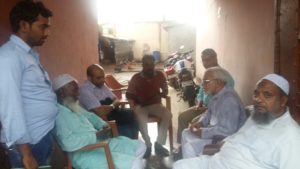 On 17 July, the team reached out to the family of Sheikh Haleem of Haldipukaar village near
Jamshedpur who was lynched to death by a mob of more than 5000 people along with three
other accomplices alleging that they were child lifters. There the delegation met the lone
crusader for Justice Sheikh Salim, the elder brother of Haleem and his distraught father. Sheik
Haleem also accompanied the delegation to meet the other victim Sajjad in a nearby village.
And they also met the main eyewitness from whose house those four persons were dragged
out and lynched on the fateful night in May 2017. After hearing their horrifying narrations,
Popular Front chairman reinforced all of them to stand strong and continue their demand for
justice.

On 18 July, the delegation travelled to Ranchi to meet Usman Ansari who lies in an isolation
ward in RIMS Hospital, Ranchi, attended only by his daughter-in-law. She recounted the horror
of being witness to her father-in-law being dragged out and almost set on fire in a well planned
out pyre by a mob of cow vigilantes. Everything they owned has been burnt and destroyed in
the village, so he wonders where he should go to after he recovers from his trauma. The
Chairman promised all possible supports in rehabilitation for his family. On the same evening
the delegation went to Ramgadh district about 70 kms from Ranchi to meet Aleemuddin who
was lynched to death, accused of transporting cattle the next day after Ramzan Eid. His eldest
daughter sounded reassuring in her fight for justice, supported by the Panchayat President and
all her neighbours who stood by the family ever since.

On 19 July, the delegation moved to Delhi and travelled to Haryana to meet with the family of
Pehlu Khan in Nuh village about 70 kms from New Delhi. His two sons Irshad and Arif recounted
that in their presence the paperwork endorsing the cow purchased issued by the village market
were destroyed and their father brutally injured in Alwar district in Rajathan. Two days later he
succumbed to his injuries. Now they have procured duplicate copies of the purchase
documents and set on a long drawn legal battle in Rajasthan to ensure that the guilty are
punished. The delegation on the way back to Delhi also stopped at Hafiz Junaid's house and
met his surviving brothers and father who are still trying to reconcile with the evening on which
Hafiz Junaid went to Delhi by train to purchase clothes for Eid and never returned to celebrate
it with them. He was stopped in his tracks by a frenzied mob drunk on fake nationalism to hurt
anybody who looked like a Muslim. His body bore over 30 stab injuries and was thrown out of
the train. The incident occurred two days before Eid.

On 20 July, the delegation headed to Shabbirpur village near Darul Uloom Deoband to meet
with the aggrieved Dalits who are victims of atrocities by Thakkurs (upper caste) of the village
when they tried to install a statue of Baba Saheb Ambedkar in their local village. The response
by the upper caste was to let loose sword bearing youth from amongst them on a helpless and
unprepared village injuring many and causing damage to property. The village pradhan and his
younger brother belonging to the Dalit community are still behind bars for the last two months.
In all the places Popular Front chairman and his team tried to make people aware about the
new face of Hindutva terror which is out to disrupt the life of minorities and weaker sections.
The team told them not to lose hope and promised that Popular Front will provide the required
legal support in their fight for justice. (Photographs attached)
Regards,
M Mohammed Ali Jinnah
General Secretary
Popular Front of India
Please follow and like us: