As part of our Vocational Training Programme, Human Welfare Foundation organized certificate distribution program for ANM Students on 22 July 2017 at the Allama Iqbal Hall Milli Model School.  Abul Fazal Enclave, New Delhi-25. Certificates were provided to 50 students who have completed the course from our Abul Fazal Enclave-Skill Training Centre, the center is being run under flagship program VISION 2026. This course is affiliated with Vishwakarma Open University for self-employment and livelihood, the practical part was monitored under the supervision of the experienced staff of Al-Shifa Multi Specialty Hospital. The beauty of this certificate ceremony was that 29 out of 50 students already got the job on behalf of this certificate course.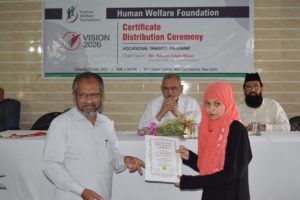 Established by a group of eminent community leaders in 2006, Human Welfare Foundation (HWF) has become a leading nongovernmental organization dedicated to carrying out humanitarian and development programs to fight poverty and people's sufferings by working in partnership with vulnerable communities regardless of faith, caste, gender or political beliefs.
HWF, along with its partners, is primarily focusing on Education, Healthcare, Micro Finance & Poverty Alleviation, Disaster Management, Drinking Water, Orphan Care, Women Empowerment, and Community Development.
Dr. Zafrul Islam Khan. Chairman-Delhi Minorities Commission graced the event as the chief guest of the program, T. Arif Ali, General Secretary-HWF and Mohd. Jafar Treasurer-HWF also graced the event and appreciated students. Introductory words were given by Noufal PK Incharge CEO and Vote of thanks by Salimullah Khan senior manager education.
Please follow and like us: