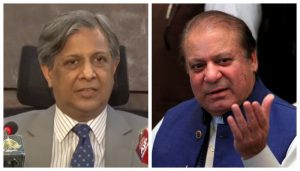 Federal Law Minister Azam Nazeer Tarar on Tuesday said PML-N supreme leader and former premier Nawaz Sharif could be arrested on his return to the country if did not secure a transit bail.
Speaking about former military ruler Pervez Musharraf's return to the country, Tarar said the law would take its course and "he will be facilitated in line with the rules and regulations".
He added that Musharraf's case should be wrapped up as soon as possible and the matter of the early hearing of his case might come up in the cabinet.
Speaking about his party chief's return, Tarar said if Nawaz failed to secure a transit bail, then he would have to surrender himself. "The courts should provide to the people who are handing themselves over to the law voluntarily."
The minister claimed that the previous PTI regime wanted to appoint a retired judge as the National Accountability Bureau (NAB) chairman.
He informed the media that the tenure of a NAB chief would be three years and the deputy chairman would act in his full capacity during his leave or absence.
He added that the National Assembly had passed the NAB amendment bill after a four-hour lengthy debate as different MNAs had filed their motions in their individual capacities to insert some amendments to the law.
When the president returned the bill despite the passage from the Senate with advice and message that some clauses should be revisited, the government thoroughly read and discussed the advice of the president with the legal experts and addressed some of his objections.
He said the president had no objection on 80% of the amendments as they were introduced by previous PTI regime in November last year. However, he added that the president had suggested revisiting 20% of the changes. "The government thoroughly read and discussed the advice of the president with legal experts and addressed some of his objections."
Please follow and like us: