Asia Pacific Summit for Peace building and coexistence 

Cambodia, 22nd Nov 2019:Bharatiya Janata Party leader Vijay Jolly was thrown out of the Asia Pacific Summit, 2019 in Cambodia on Tuesday when he tried to disrupt the speech of Pakistan National Assembly Deputy Speaker Qasim Suri on Kashmir issue.
In a video circulated on social media, Jolly can be seen escorted out by security personnel when he tries to disrupt the speech.
Suri was seen talking about the Kashmir issue and accusing the Indian government of committing human rights violation in the Valley.An enraged Jolly stood up and objected to Suri's speech, saying "Kashmir is not the issue of this summit…This is not right."
The security personnel then grabbed Jolly and took him out of the conference held in Peace Palace in Phnom Penh, Cambodia.
India has been maintaining that Kashmir is its internal matter while Pakistan has persistently raised the issue at various international forums, more so after the central government abrogated J&K's special status on August 5. Since then, Pakistan has downgraded the bilateral ties with India and raked up the Kashmir issue frequently.
Today, world can witness RSS's true face reflecting in Modi's govt of so called Largest secular democracy. A govt which can't even tolerate hearing the word 'Kashmir' at an intl forum; imagine what atrocities they are inflicting upon Kashmiris for past 100 days #Kashmir pic.twitter.com/f0WqDpOAFi

— PTI (@PTIofficial) November 19, 2019
courtesy PTI twiter handle
Indian delegation included Ex-Rajya Sabha Member B. Kalita, Ambassador (Retd.) K.V. Rajan, Member of Indian Parliament Indra Hang Subba from Sikkim, Prof. (Dr.) S.P. Singh -Vice Chancellor Royal Global University, Assam, Smt. Satindra Kumari Social Media Convener Delhi Study Group , Vijay Jolly BJP Leader & Prof. Parmod Kr. Mehra from IGNOU etc.
The Indian Charge de' Affaires a.i,  Cambodia B. Subba Rao read out a right of reply from Govt. of India on J&K at the Asia Pacific Summit 2019 latter.
Indian BJP leader Vijay Jolly met the Prime Minister of Cambodia His Excellency Hun Sen in Phonm Penh. Jolly honored Cambodian PM with a shawl and a BJP Lotus anghvastram (scarf).
Prime Minister's Message
Welcome to the Asia Pacific Summit 2019 – Cambodia
On behalf of the Royal Government of Cambodia, it is my great honor and pleasure to be the host of the summit, and extend my warmest greetings to honorable current and former heads of state and government, speakers of parliaments, cabinet members, lawmakers, and prominent personalities from civil societies, interfaith organizations, businesses, and media as well as youth from all over the Asia Pacific region and the world.
The summit is co-hosted by the Royal Government of Cambodia and the universal Peace Federation (UPF) in coordination with the International Conference of Asian Political Parties (ICAPP), the International Association of Parliamentarians for Peace (IAPP), and the Asian Cultural Council (ACC), to promote peace-building and reconciliation so as to bring about development and prosperity as well as to seek for solutions to other current critical issues in society.
This summit is important and timely relevant for the current global situation, where peace, harmony, and prosperity are being threatened by existing and emerging challenges as well as threats from natural catastrophes, climate change, environmental destruction, poverty, terrorism, and so on. I am convinced that this summit will provide great opportunities for all leaders and stakeholders in the Asia Pacific where all countries, regardless of economic, political, and religious backgrounds can thrive and live in peace and harmony.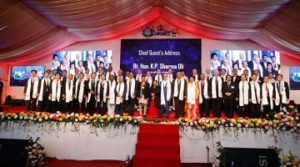 Taking this opportunity, I would like to inform all dignitaries that Cambodia has enjoyed full peace since 1998 after internal conflict had been successfully and peacefully solved under win-win policy pioneered by our own initiative. Peace has allowed Cambodia to develop its economy, and to stand on the right path towards sustainable and inclusive socio-economic  development. Cambodia graduated from a low-income country to a lower-middle income country in 2015, and sets goals to become an upper-middle income and high-income country by 2030 and 2050 respectively. Since peace fully resumed, Cambodia has played active role in preserving world peace by contributing and sending peace-keeping forces and demining teams to other countries under the framework of the United Nations.
May this historical summit significantly contribute to addressing the critical challenges of our time in the Asia Pacific region and the world towards greater peace, reconciliation, interdependence, mutual prosperity and universal values.
Thank you and enjoy your stay in Cambodia
Asia Pacific Summit Cambodia – 2019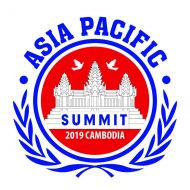 The Asia Pacific Summit 2019 – Cambodia co hosted by UPF, the Cambodian government and civil society organizations will take place in the Peace Palace, Phnom Penh, Cambodia on Nov. 19, 2019. The Summit is unique in that it will showcase the positive impact of cooperation between government and civil society in peace-building and reconciliation in areas of conflict, bringing about development, prosperity and solutions to other critics issues in society. The foundation for UPF Cambodia was laid when DR. & MRs. Moon visited Cambodia 2005 and 2006 during their World Peace Tour.
A highly selective group of delegates from more than 50 nations in the Asia Pacific region and throughout the world will be in attendance, including current and former heads of state, speakers of parliaments, parliamentarians, leaders from the world's great religions, women leaders and representatives of the media, academia, business, arts, youth and civil society.
Universal Peace Federation
The Universal Peace Federation (UPF) is a global network of individuals and organizations dedicated to building a world of peace centered on universal spiritual and moral values. UPF and its global network of Ambassadors for Peace bring universal, spiritual principles to the task of resolving conflict and reconciling the divided human family. International Leadership Conferences, symposia, and peace councils offer opportunities for high-level consultations. These are complemented by "track two" diplomacy and grass-roots programs that build support for a culture of peace.
UPF is an NGO in General Consultative Status with the Economic and Social Council of the United Nations and the achievement of the Sustainable Development Goals.
Mr. Jolly had earlier vociferously protested at the conference  when Pakistan National Assembly Deputy Speaker Kasim Khan Suri had made false  propaganda & jingoistic allegations against PM Modi led Indian govt. on J&K.
Jolly had disrupted the address of Pakistan leader when Mr. Suri had alleged that 1,00,000 Kashmiri were butchered and 11,000 women were raped in Kashmir.
Vijay Jolly had forcefully voiced his protest against this immature Pakistan rehotic & attempt to internationalize the internal affairs of India with false narrations.
BJP leader Mr. Jolly was  greeted and hosted over a  luncheon meeting by Khmer Times Publisher & Editor T. Mohan, the largest circulated online & daily "English & Khmer" language  newspapers in Cambodia .
Please follow and like us: