ASSOCIATION FOR ASIAN UNION CELEBRATES ASIAN UNITY DAY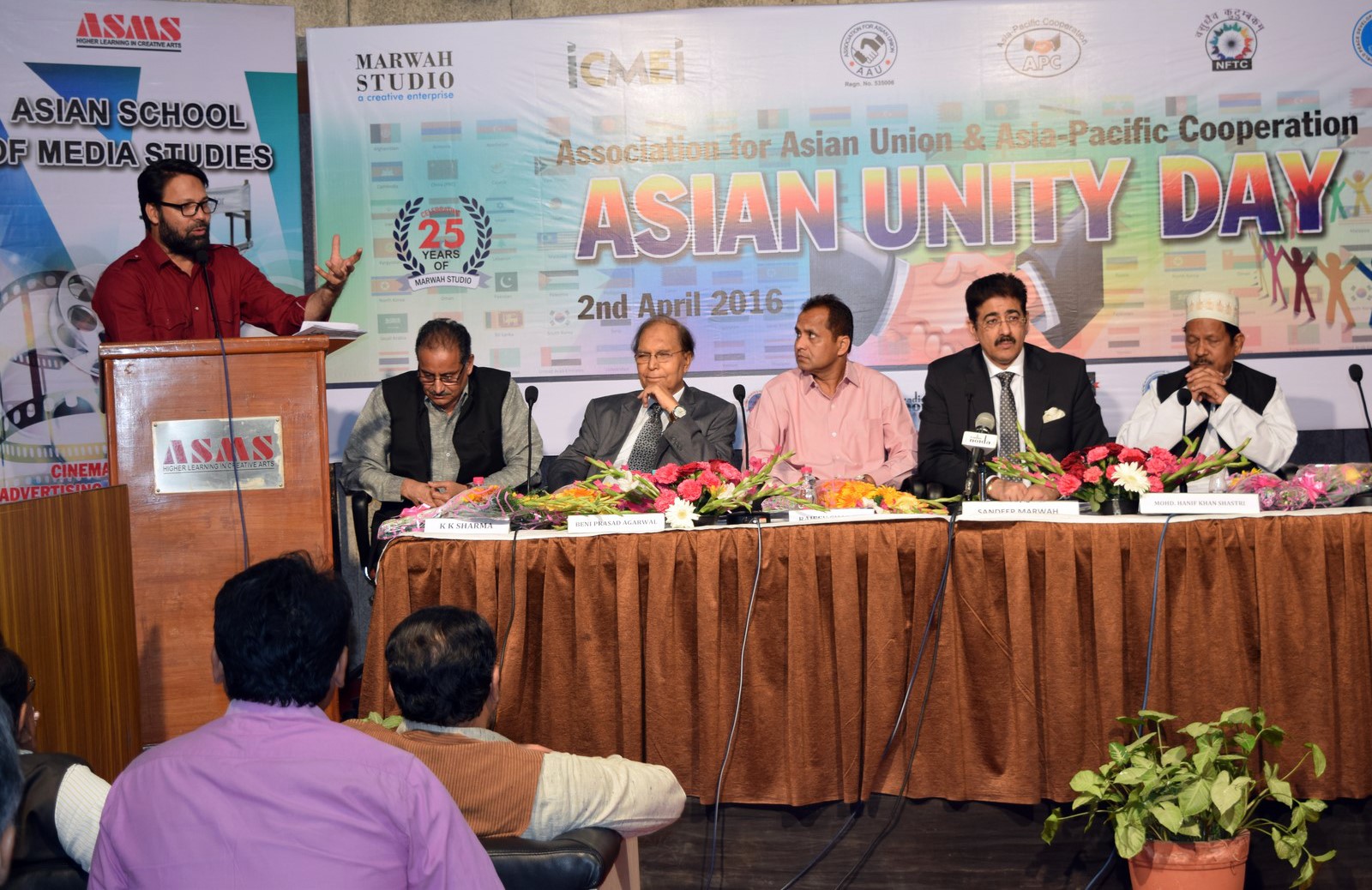 ALI AADIL KHAN (EDITOR -IN-CHIEF), TIMES OF PEDIA ADDRESSING THE GATHERING ON ASIAN UNITY DAY AT FILM CITY NOIDA
NEW DELHI:Special correspondent //Association for Asian Union(AAU) celebrated Asian Unity day on 2nd Apr 2016 at Marwah Studio Film City Noida .Speaking on the occasion Dr B.P.Aggarwal Chairman, AAU stressed on the formation of Asian Union by uniting the countries of Asian Region on the line of European Union.In his address Mr Marwah Director , Asian Academy of Film & Television (AAFT) pleaded for the celebration of 2nd Apr as the Asian Unity Day not only in India but all Asian Nations.
He said AAU will make efforts to persuade the Govt. of India for declaring 2nd April as Asian Unity Day every year .Later the Asian Unity Award was conferred on Shri Sandeep Marwah by the founder and chairperson of AAU in the function.
On this occasion Dr Mohammed Haneef Khan Shastri (3 Times President awardee) emphasised on peace and harmony among people of a country as a tool for the development .During his speech he recited the verses of Qoran , vedas and Geeta which lay stress on a cohesive society based on peace , justice and humanity.
Other eminent persons  who addressed the gathering on the theme "Positive element in religion can lead to peace and harmony in society" were D.K.Arya ,Rajeev Sharma ,Abdul Samad Khuwaja , Ali Aadil Khan ,Ashok Tyagi ,Oves Ali Khan .Mr K K Sharma delivered the vote of thanks on the occassion .Top Bureau
Please follow and like us: