The Pandemonium of The Pandemic
More than half of the world behind the doors at home .The shadow of suffering ever lengthening Patterns ofgrief and isolation fast changing . Confusion looming large on the horizon day by day . If there was a pandemonium of the pandemic,CoVID-19 was its most telling example .
From earning livelihood after losing it under the impact of CoVID-19 to insensitivity and ignorance of grassroot issues at the level of many an administrator-the challenges were monumental to say the least . While remedies were being trumpeted as workable solutions, an inertia of sorts had gripped manya calculated response in the absence of clear cut trajectories .Remonitise the poororbailout the rich Blatant selective targeting in the name of telling the "Tablighi" story of India's fight against CoVID-19 cluster hourlybecoming a 'fight against its Muslim minority' reminiscent of the earlier spate of lynchings across the country .Confusionhad bordered on madness and taken its toll of social equilibrium day by day
The Prime Minister sent a message .The BJP President asked BJP partymento desist from communalizing the CoVID-19 but the seeds of hatred planted with much venom kept yielding bitter fruit of discrimination and targeting of the vulnerable along religious and caste faultlines .There was an ironic lesson for the authorities here in the manner Britain probed why minorities had been hardest hit in U.K. due to CoVID-19
Perhaps the most haunting of all pictures of CoVID-19 was taken by Sunil Aledia who found a destitute man lying next to a dog gasping for water on the dirty hot road at KashmereGate ISBT of the national capitalDelhi . Despite Aledia's many calls to the helplines there was no answer . Preparedness was perhaps a tall order in these times of acute crisis ! If migrant labourerMahesh Jena peddled 1700 Km over seven days to reach home from Solapur in Maharashtra to Jajpur town in Odisha he was lucky as many others had fallen dead on the way like 12 year old JamaloMakdam the only child of her parents .
But for the more privileged governments sympathetic to them were quick to arrange buses e.g. for students from Koto coaching centresto U.P. But a depressed migrant from Bihar Chhabu Mandel was forced to sell his mobile for a pittance and feed his family and make bare arrangement for them before committing suicide in the Richie-rich Gurgaon . As an example of dark humour in these times of want people kept social distance from five hundred rupee notes lying on the on the road in North Delhi .
While for some suicide or starvation was the only option others could enjoy ignoring moratorium offers even as most salaried borrowers continued EMIs despite RBI offer on moratorium on loan repayments . No comparable state sponsored "Social Security" boaster or relaxation was adequately available to the vulnerable in their most trying moments . A 22 year old daily wage worker Rizwan Ahmad died in Uttar Pradesh's Ambedkar Nagar three days after he was badly beaten by police when he had stepped out to purchase food as he was hungry . What is worse he had been intercepted by a woman inspector .
Our children were also not safe . Global compilation of report of Child Sexual Abuse Material (CSAM) had put India on the top of online content child sexualabuse . As CoVID-19 had increased screen time unprecedentedly this was a major worry . Also social response had worsened in recent years as aresult of increasing communal and caste friction resulting in an skewed targeting of the minorities and dalits. Even doctors on duty during CoVID-19 have been harassed and persecuted .
A senior resident at the national iconic AIIMS tried to commit suicide due to sexual and caste based harassment at AIIMS Center for Dental Education and Research (CDER). Mistreating and "othering"the less fortunate had become a mounting threat to our established social order . The attitude was seeping beyond the confines of religion and caste . The rise of the "bully" was unmistakable but so was the negative effect on society .
Remember the Palghar lynching .Despite record harvest there was little farm labour. The rich poor divide had reached such a level that the wealthy could not retain the migrant labourers neither on the farm nor on the factory or construction site in the city as the exploiter had shown little sensitivity towards the exploited despite the harsh reality of CoVID-19.
In a land which was famous for its ancient Indian ethic of ,Daridra Narayana ,even the harshness of the CoVID-19 catastrophe could not soften the administration and courts of justice to show due clemency or leniency in matters of hearings of under trials particularly of those being hounded in the name of Northeast Delhi riots and anti-CAA protesters from the minority community with changes under the hated UAPA Act and arrests continued despite lockdown For a people perhaps most persecuted on earth such as the Rohingyas ,CoVID19 saw boatloads of them sinking in the ocean and meeting death by drowning . As countries further hardened their attitude to them instead of relaxing in face of the CoVID-19 tragedy special orders were issued to track them in the aftermath of Tablighitargeting in India .
Ruling elites across societies like ours were turning a deaf year to the dirges of lament from the downtrodden while bidding zealously to protect their self interest and their physical safety . Thus despite India having 90 percent of its population working in the non-formal sector with millions of migrants living in informal settlements with no basic facilities of drinking water or sanitation, the lockdown had resulted in deep and devastating immiseration for such countless millions .SuhasPal shikar had aptly rounded off the preavailing situation with these words-minimum democracy ,maximum interfaith distance with an aloofness from the poor…
Spraying disinfectants on the hapless migrant labourers , leaving them to die on rail tracks crushed by trains carrying more fortunate ones , with tumbling models of 'development' being exposed one after another from U.P. to Gujarat , CoVID-19 ground report has been a tale of criminal negligence of the have-nots by thehaves.
Achilling reminder was the futile appeal for help of ailing and starving ParvezAnsari a 19 year old migrant worker lost in the CoVID-19 maze in Ahmedabad far away from his home in Ranchi . Despite the intervention of the Chief Secretory of Jharkhand's Office and the Medical Superintendent of the Civil Hospital Ahmedabad's claim that good care was been taken of Parvez who did not have Corona virus but was a T.B. patient with no one by his side Parvez was dead within days of being admitted foreloneand far away . In U.P. the much touted Agra model of CoVID-19 has also been amply exposed as Agra soon became one of the worst hit citiesin U.P.
Conditions in states like U.P.were alarming on all fronts-from planning for CoVID-19 to handling cases of communal instances . Many journalists have questioned the lack of general Indian response to attacks on minorities and their rights in recent past especially when compared to the reaction in the U.S. over the killing of a blackman called George Floyd .RajdeepSardesai has lamented aloud how Television had failed the CoVID-19 test and instead of taking the opportunity to make T.V. news credible once again had given itself toa frenzy of Islamophobia resulting in asharp increase in communal incidents involving common people .
From attacks on Muslims in Gurugram by neighbors to firing outsideJama Masjid in Dhankot village; beatings and stopping of Muslim venders from selling vegetables as in U.P.'s Mahoba district and many other places to burning of the Muslim sacred books outside old Gurugram, the pattern and places were similar . To further aggravate the situation those who were supposed todouse such flames of communalism were found to be 'part of a design' to keep the Muslim community on tenterhooks even during the sacred month of rigorous fasting In the capital Delhi and in many parts of U.P. police were harassing the Muslims by trying to stop the Azan call to prayer .
Catching the communal virus from the ground made fertile by the sustained campaign of Islamophobia even hospitals like the one in Meerut started practicing religious discrimination and were emboldened to declare that their was hospital out of bounds for Muslim patients as carriers of CoVID-19 and their relatives . The negligence with which the medical and other staff at places was treating Muslim patients was revealed when a fifty year old man who had participated in the Tablighi Jamaat at Nizamuddin Markazand was quarantined in Sultanpuri inNorth-West Delhi died due to gross negligence of his diabetic status .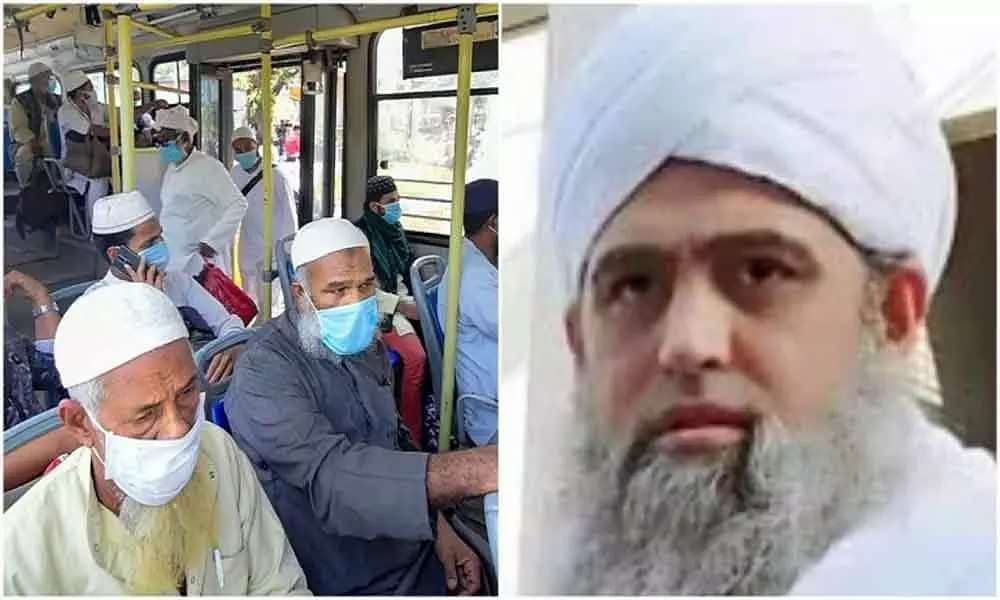 The case of the infamous Lady doctor A. Lalchandaniin Kanpur who despite of her gender showed shocking disregard for patients just because they were Muslims was a further pointer in this direction . Even more revealing was the manner in which she was merely transferred from Kanpur Medical Collage to Jhansi Medical College as its Principal .
While the police had been extra prompt in arresting Muslim protesters and accusing many innocent Muslims of riotingit had failed miserably in humanitarian efforts like handing over the dead bodies of some those killed in brutal assaults in Delhi riots in late February making the kin await endlessly to burry their dead .
Perhaps the time had come to call a spade a spade and put end to such campaigns of hatred which had wider and more damaging social repercussions taking a toll of national unity which was the need of the hour . It was time that particularly the majority community which mattered most realisedthat the political parties in power should not be allowed to vitiate the atmosphere beyond repair .
The BJP as the major political force in the country at present must rise above narrow considerations of winning elections at this juncture when at one front India is battling CoVID-19 and on another threats such as Chinese adventurism were on the rise . The political parties must put an immediate stop to their petty ambition and make earnest efforts to forge a national unity by assuring and assuaging the most affected and the weaker sections particularly the Muslims, the Dalits and the migrant labourers who have been on the receiving end of late . Its time they heard the last words of the dying labourer 100 Kms from home all alone-"Lene aa sakte ho to aajao" to his shattered family far ,far away.
For once we must let the nation's Constitution be placed above party interest . The PrimeMinister , Vice President and the President have reminded us of our constitutional commitments but the tragedy was many rogue members of the political community have been allowed to spoil the atmospherefor far too long . The economic challenge which the world today was facing had pushed millions into poverty. Instead of finding enemies where none existed let us fight the real dangersthat were threatening India's march to development
Writer is Former Member Board of Management of IGNOU
Please follow and like us: