Addressing a joint press conference with Chief Minister Mehbooba Mufti in Srinagar today Union Home Minister Rajnath Singh has appealed to the disgruntled people of Kashmir not to play with the future of the youth of the state.  The Minister said that dialogue within the framework of the constitution is the only way to find a solution.
Mr Singh said, he met more than 300 people since yesterday and all of them are in favour of maintaining peace in the valley,Home Minister also indicated the government's willingness to talk to separatists .Singh said an alternative to pellet guns – which have caused massive injuries among protesters – is on the way.
Mr Singh answered of a question that : "We are willing to talk to anyone within the scope of Kashmiriyat, Jamhooriyat and Insaniyat."
Ms Mufti confronted tough questions on what many allege is disproportionate use of force by security forces on protesters. A journalist reminded that as opposition leader, she had criticised the Omar Abdullah government in 2010 for civilian killings.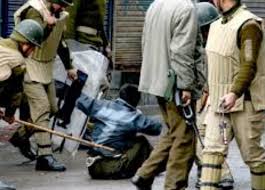 "Don't mix or compare the two situations. In 2010 there was a fake encounter. Today three militants were killed, how is the government to be blamed?" she said, adding that people came out on the roads to protest despite curfew. Mehbooba  said, there are only 5 per cent of people, who are disturbing peace and instigating violence in the Valley. She maintained that 95 per cent are innocent and they want to live in peace but are suffering due to a section of selfish elements.
The home minister is on a two-day visit to Kashmir to review security and interact with civil society groups, political parties and other stakeholders as part of the outreach recently promised by Prime Minister Narendra Modi.
Please follow and like us: