Photo exhibition on Climate Change
New Delhi//By A.Rasheed Agwan
On 8th August evening, we joined a unique exhibition in a narrow lane of Ghaffar Manzil Jamia Nagar New Delhi . It was thronged by art students of Jamia Millia Islamia a central University and many other concerned citizens.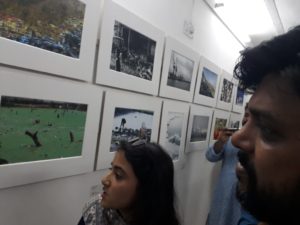 The theme of this photo exhibition was 'Climate Change'. It was organized by Centre for Art and Free Expression (CAFE), a creation of Professor Ghazanfar Zaidi and his family.
This exhibition was unique in three ways. Firstly, it was held in an unbelievable venue, in a two-story building converted into an art and youth activity hub at the dead end of a thin lane in a so called 'Muslim ghetto' of Jamia Nagar area .
Advertisement #################
##################################
Secondly, it mainly contained creative and sensitizing photographs from the neighbourhood of Jamia Nagar-Okhla itself; on the plight of Yamuna, plastic menace, garbage dumps, haze of the E waste recyclling plant, people's initiatives, and the like.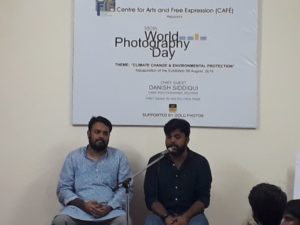 Lastly, it was inaugurated by a young social thinker, the only Indian Pulitzer prize winner in photo journalism, chief photographer of Reuters and the resident of Ghaffar Manzil itself, Danish Siddiqui.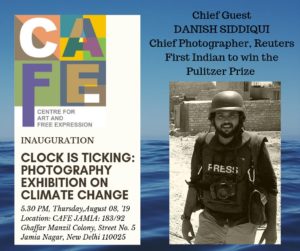 Danish gave a very thoughtful talk on the role of creative photography in social change, as his message to youth on the occasion.The phrase "small is beautiful" really came true to us last evening.
Please follow and like us: