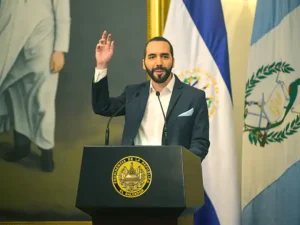 Bitcoin had a terrible weekend as its price dipped below $18,000 on Sunday. The world's oldest and most valued crypto faced, the overall crypto market saw an adverse effect as well, with the global crypto market cap sinking below $850 billion, dipping from over $3 trillion in November 2021.
Nayib Bukele, the president of El Salvador and a staunch supporter of Bitcoin asked investors to have patience, saying that BTC value will grow "immensely" after the market recovers.
On June 19, Bukele took to Twitter to offer a piece of advice for people who are "worried or anxious about the Bitcoin market price." He wrote, "My advice: stop looking at the graph and enjoy life. If you invested in #BTC your investment is safe and its value will immensely grow after the bear market."
In 2021, El Salvador became the first country to legally adopt Bitcoin as a legal tender, alongside the US dollar.Bukele's advice came at a time when the overall crypto market actually started showing signs of recovery. On Monday, Bitcoin price saw a gain of over 10 percent, inching closer to the $20,000 mark.
Several other cryptos also saw a considerable gain on Monday, with Doge coin (DOGE) seeing a massive boost, mostly thanks to Tesla CEO Elon Musk's tweet where he said that he will continue supporting and buying DOGE. Musk also said that DOGE payments may soon be supported for buying Tesla and SpaceX merchandise.
Please follow and like us: