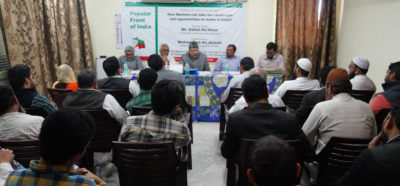 New Delhi: Popular Front of India Chairman KM Shareef in his statement in response to the latest acquittal of all eight accused in the 2006 Malegaon blast case said that it is a classic example of how the political partisanship and biases of the investigation agencies obstructs justice to innocents.
All of them were falsely implicated by Maharashtra ATS without any evidence but their alleged links with SIMI. Despite the confession of  Swami Assemanand to the role of Hindu right wing organizations in the Malegaon 2006 case, these innocents had to serve five years in jail.  A series of terror attacks following Malegaon in various parts of the country, which were earlier ascribed to one or other Muslim sounding groups, turned out to be the handiwork Hindu right-wingers including army officer Col. Prasad Purohit, and Sadhvi Pragya Singh. In May 2014 six Muslims accused in Akshardham Temple attack were acquitted by the Supreme Court. It was all sufficient to change the whole terrorism discourse. But still the official attitude to such incidents still remains as biased and partisan as it has ever been. Successive governments use investigative agencies to serve their political purposes. Not long ago the senior prosecutor Rohini Salian spoke of a government order to go soft on the Hindutwa angle of the Malegaon blast. The same NIA which helped expose the rightwing hands behind the terror attacks is now helping escape the high ranking criminals affiliated to Sangh Pariwar.  These types of manipulations are not only obstructing justice but also destroying the credibility of the agencies.
Popular Front demands for measures to keep investigative agencies free from the influence political parties.  One of the steps could be to book and try all the investigating officers in the cases that are acquitted, and punish them if they are found guilty of falsely implicating innocents. We appeal to all right minded political parties in power to go beyond their party lines and push for amendments to criminal procedure code and introduce corrective clauses to compensate innocents who serve several months in jail. It also is a time to introspect all draconian laws which are frenzied in their enthusiasm to punish criminals and repeal them.
Chairman also welcomed the central government move to fill 2 lakh of vacancies in the government jobs but demanded to ensure the fair representation of Muslims and backward classes. Even though all successive governments have sent instructions to the state governments to ensure their fair representation, due to the lack of special rulings and practical measures they all ended up being mere words on papers. Central government too has expressed its interest in minority welfare through similar statements. If there is any substance to such stamens rather than mere words, this is the right occasion to practically do anything about it.
By
Mohammed Arif Ahmed
Director of Media and Public Relations
Popular Front Headquarters, New Delhi
Please follow and like us: