Qurban Ali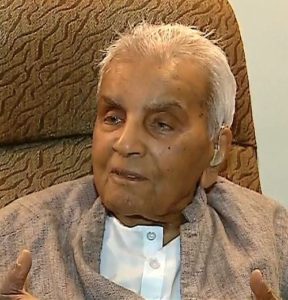 Vetaran Socialist leader noted jurist and champion of human rights Justice (retired) Rajinder Sachar (1923-2018) :passed away in Delhi on 20th April 2018. He was 94. A distinguished advocate for the protection of human rights, and poor, Justice Sachar was a former Chief Justice of Delhi and Sikkim High Courts.
He vociferously promoted the cause of human rights and was also head of People's Union of Civil Liberty (PUCL). He authored many reports on Kashmir.
Paying emotional tribute on the sad demise of late Justice Rajindar Sachar, senior journalist Seema Mustafa wrote "One of our finest has gone. Justice Rajinder Sachar has left us, fairly suddenly without too much notice except that delivered by age. A mentor, a friend, a man whose doors were always open he will be sorely missed. He did not really care—unlike Delhi's famous—whether he was invited to speak or not, if he supported the cause he was there in the audience, listening attentively. For many of us he was the person we turned to when the times seemed very bleak and dark, just to hear Justice Sachar tell us that it will get better. The wisdom of experience and age gave his voice authority, and lifted spirits when little else would".
Rajindar Sachar was born on 22nd December 1923 at Lahore in undivided India. His father Lala Bhim Sen Sachar was a well-known Congress leader and later become Chief Minister of Punjab. He educated at D.A.V. High School in Lahore, then went on to Government College Lahore and Law College, Lahore. During his students days he was attached to National movement and joined Congress Socialist Party. After the partition of the country he came to Delhi and joined Socialist party.
In May 1949, the Socialist Party under Rammanohar Lohia's leadership held a demonstration in front of the Nepal embassy in New Delhi to protest against the autocratic and repressive regime of
the Rana government in the Himalayan kingdom. There was violence and the police used teargas shells to disperse the mob.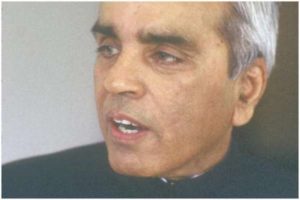 Lohia was arrested for violating Section 144 CRPC. Young Rajinder Sachar was also arrested with Lohia and remained in jail for a month and a half. According to Sachar sahib "It was during that imprisonment that Nehru and Indira sent a basket of mangoes to Lohia. Sardar Patel was very angry and wrote to Nehru expressing his annoyance over sending mangoes to a person who had violated the law. Nehru in his quiet way told him that politics and personal relationships should not be mixed up". It was a first movement and arrest in free India where Socialist offered civil disobedience".
On 22 April 1952 Rajinder Sachar enrolled as an advocate at Simla. On 8 December 1960 he became an advocate in the Supreme Court of India, engaging in a wide variety of cases concerning civil, criminal and revenue issues. But at the same time he was actively associated with the Socialist Party led by Lohia. In 1963 a breakaway group of legislators left the Congress party and formed the independent "Prajatantra Party". Sachar helped this group prepare memoranda levelling charges of corruption and mal-administration against Pratap Singh Kairon, Chief Minister of Punjab. Justice Sudhi Ranjan Das was appointed to look into the charges, and in June 1964 found Kairon guilty on eight counts.
On 12 February 1970 Rajinder Sachar was appointed Additional Judge of the Delhi High Court for a two-year term, and on 12 February 1972 he was reappointed for another two years. On 5 July 1972 he was appointed a permanent Judge of the High Court. He was acting chief justice of the Sikkim High court from 16 May 1975 until 10 May 1976, when he was made a judge in the Rajasthan High Court. The transfer from Sikkim to Rajasthan was made without Sachar's consent during the Emergency (June 1975 – March 1977) when elections and civil liberties were suspended.
Sachar was one of the judges that refused to follow the bidding of the Emergency establishment, and who were transferred as a form of punishment. After the restoral of democracy, on 9 July 1977 he was transferred back to the Delhi High Court.
In June 1977 Justice Sachar was appointed by the government to chair a committee that reviewed the Companies Act and the Monopolies and Restrictive Trade Practices Act, submitting an encyclopaedic report on the subject in August 1978. Sachar's committee recommended a major overhaul of the corporate reporting system, and particularly of the approach to reporting on social impacts.In May 1984 Rajinder Sachar reviewed the Industrial Disputes Act, including the backlog of cases. His report was scathing. He said "A more horrendous and despairing situation can hardly be imagined… the load at present in the various Labour Courts and Industrial Tribunals is so disproportionate to what can conceivably be borne … that the arrears can only go on increasing if the present state of affairs is not improved… It is harsh and unjust to both the employers and employees if the cases continue to remain undecided for years".
In November 1984, Justice Sachar issued notice to the police on a writ petition filed by Public Union for Democratic Rights on the basis of evidence collected from 1984 Sikh riot victims, asking FIRs to be registered against leaders named in affidavits of victims. However, in the next hearing the case was removed from the Court of Mr. Sachar and brought before two other Judges, who impressed petitioners to withdraw their petition in the national interest, which they declined, then dismissed the petition.

As an Indian lawyer and a former Chief Justice of the Delhi High Court Sachar sahib was a member of United Nations Sub-Commission on the Promotion and Protection of Human Rights. He has served as a counsel for the People's Union for Civil Liberties. He chaired the Sachar Committee, constituted by the Government of India, which submitted a report on the social, economic and educational status of Muslims in India.
Rajinder Sachar was one of the authors of a report issued on 22 April 1990 on behalf of the People's Union for Civil Liberties and others entitled "Report on Kashmir Situation". In January 1992 Sachar was one of the signatories to an appeal to all Punjabis asking them to ensure that the forthcoming elections were free and were seen to be free. They asked the people to ensure there was no violence, coercion or unfair practices that would prevent the people from electing the government of their choice. Rajinder Sachar was appointed to a high-level Advisory Committee chaired by Chief Justice Aziz Mushabber Ahmadi to review the Protection of Human Rights Act, 1993 and determine whether structural changes and amendments were needed. The committee prepared a draft amendment Bill incorporating its recommendations. These included changes to the membership of the National Human Rights Commission, changes to procedures to reduce delays in following up recommendations and a broadening of the commission's scope. The recommendations were submitted the Home Affairs ministry on 7 March 2000.
In April 2003, as counsel for the People's Union for Civil Liberties (PUCL), Sachar argued before the Supreme Court of India that the Prevention of Terrorist Activities Act (POTA) should be quashed since it violated fundamental rights. On 24 November 2002 the police arrested twenty six people in the Dharmapuri district of Tamil Nadu, and on 10 January 2003 they were placed under POTA by the government on the grounds that they were members of the Radical Youth League of the Communist Party of India (Marxist–Leninist). On 26 August 2004, still being held without trial, the detainees began a hunger strike. Sachar led a team of human rights activists who visited them in jail on 15 September 2004 and persuaded them to end the hunger strike. POTA was repealed on 10 November 2004. However, all the POTA provisions were incorporated in the Unlawful Activities (Prevention) Act. In October 2009 Sachar called for abolition of these laws.
He said "Terrorism is there, I admit, but in the name of terror probe, many innocent people are taken into custody without registering a charge and are being detained for long period".
Rajinder Sachar, who had formerly been a United Nations special rapporteur on the Right to Adequate Housing, headed a mission that investigated housing rights in Kenya for the Housing and Land Rights Committee of the Habitat International Coalition. In its report issued in March 2000 the mission found that the Kenyan government had failed to meet its international obligations regarding protection of its citizens' housing rights. The report described misallocation of public land, evictions and land-grabbing by corrupt politicians and bureaucrats.
In March 2005 Justice Rajinder Sachar was appointed to a committee to study the condition of the Muslim community in India and to prepare a comprehensive report on their social, economic and educational status. On 17 November 2006 he presented the report, entitled "Report on Social, Economic and Educational Status of the Muslim Community of India", to Prime Minister Manmohan Singh. The report showed the growing social and economic insecurity that had been imposed on Muslims since independence sixty years earlier. It found that the Muslim population, estimated at over 138 million in 2001, were under-represented in the civil service, police, military and in politics. Muslims were more likely to be poor, illiterate, unhealthy and to have trouble with the law than other Indians. Muslims were accused of being against the Indian state, of being terrorists, and politicians who tried to help them risked being accused of "appeasing" them.
The Sachar Committee recommendations aimed to promote inclusion of the diverse communities in India and their equal treatment. It emphasised initiatives that were general rather than specific to any one community. It was a landmark in the debate on the Muslim question in India. The speed of implementation would naturally depend on political factors including the extent of backlash from Hindutva groups. The Sachar Committee Report recommended setting up an institutional structure for an Equal Opportunity Commission.
In March 2003 Sachar was a signatory to a statement that condemned the US-led invasion of Iraq, calling it "unprovoked, unjustified and violative of international law and the United Nations Charter". Other signatories included Shanti Bhushan, Pavani Parameswara Rao, Rajeev Dhavan, Kapil Sibal and Prashant Bhushan.
He was a Judge who set an example. That after retirement Judges did not need to go into holes, and in fact were required to play a major role in keeping India on the Constitutional track. He spoke fearlessly, boldly, did not look for favours from the establishment regardless of who was in power, and as a result rubbed all the wrong way saying when we used to laugh, "well I am with the people and that's all that matters."
One does not really know where to begin, or for that matter end this tribute. Does one remember him for the Sachar report on the status of the Muslim community in India that created a storm as it was an honest and starkly revealing document; or for his stand on civil liberties for all; or for his criticism of established political parties; or for his love for the Indian Constitution that was always so visible; or for his gentle enquiries when he knew an individual was troubled; or for his willingness to walk the extra mile at any time of the day or night to help a person in need or for a cause; or for his consistency in advocating peace in South Asia; or for his fearlessness in taking on the communalists; or for his strong support for gender equality and justice.
By the end Justice Sachar was visibly frail, a little bent with age, and clearly with many off days that he made sure none of us really knew about. This would not prevent him from attending meetings, signing statements and organising fact finding reports till his last days.
One never heard him complain about his health. One never heard even a note of pessimism in his voice. One never heard him talk about his ailments or his problems. He was always there for everyone else, for India and her people.In these years one did, however, hear some pessimism in his voice.A 'what will happen to our country' tone, with worries that he would share occasionally. Excerpts from an article he wrote for The Citizen in December 2017:
Justice Sachar's admiration for Ram Manohar Lohia spanned his life, never diminishing. But he never allowed that to come in his way of relationships with those who were perhaps, very critical of his mentor. As he said, "your view is yours, mine is mine."And would then tell us stories about the differences between Jawaharlal Nehru and Lohia that never came in the way of mutual respect.
There are not many left now who say it like you did Justice Sachar, without mincing words, or looking over your shoulder, or bothering how the chattering classes would react. You looked for no favours, no positions, no awards. Respect Sir, Always!!!
Please follow and like us: