New Delhi, August, 4, 2017:
In times of death and destruction, the lotus of communal harmony has bloomed in the muck of flood-ravaged Dhanera in Banaskantha, a district which has lost 64 lives and is still counting its dead. In this Hindu-dominated town, some 3,500 Muslims from Dhanera, Deesa, Palanpur and nearby villages trooped under the banner of Jamiat Ulama-i-Hind in to the aid of the town, cleaning places of worship and residence alike, after waters started receding slowly. The town was submerged under 10ft of flood waters that coursed its way through thousands of homes, leaving behind a trail of destruction, tonnes of earth, sand and scare of an epidemic. The volunteers under the aegis of JUH cleaned some major temples in Dhanera like the Ganapati, Hanuman, Satimata, Lilashah and Ashapura Mata temples in the first two days itself with the help of a few locals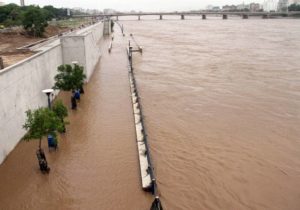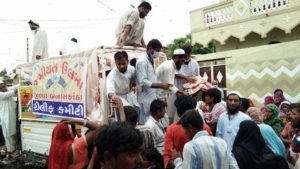 At the instruction of Maulana Mahmood Madani, General of Secretary of Jamiat Ulama-i-Hind a relief team of Jamiat has been engaged in flood ravaged areas of south Gujarat since the flood ravaged the area on July 24, 2017. On daily basis, almost five hundred volunteers of Jamiat have been engaged in cleanliness drive in Hindu and Muslim localities sending out a very positive message of communal amity. Maulana Maulana Mahmood Madani, an icon of communal harmony and global peace leader, while lauding  the effort of local Jamiat has expressed optimism that it will strengthen feeling of brotherhood and national unity. Maulana Madani said that this crowd has set example against the crowd which is infamous for mob lynching.
Maulana Abdul Quddus Palanpuri, vice President of Gujarat Jamiat under whose supervision relief activities are underway, briefed that Jamiat cadres have completed cleanliness drive in 1680 houses, hospitals and schools etc. Besides that they have cleansed different mosques and 13 temples too. They have also sprayed anti-rodents medicine in many places.
Different local units of Jamiat have arranged 25 vehicles containing food grains, ration, bet, blanket and water etc.  So far more than 700 patients have been provided with medical assistance. Once the relief activities finish, Jamiat will start constructing houses for the flood victims. Jamiat will also help those who have lost their business due to floods to earn their livelihood. Philanthropists from Mumbai have donated us 20 lakh rupees from different local units of Gujarat 20 lakh for the flood victims. A survey of flood devastation is being undertaken. Based on the survey report, rehabilitation work shall be taken on war footing.top bureau
Please follow and like us: