New Delhi: Dr. Suresh Khairnar received Mukundan C Menon Award – 2016 from Kuldip Nayar, veteran journalist & writer in an elegant function being organized by National Confederation of Human Rights Organizations (NCHRO) today at Indian Law Institute, near Supreme Court of India.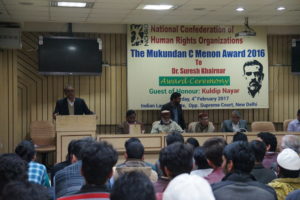 EM Abdul Rahiman, Chairman of Empower India Foundation chaired the programme. Prof. P. Koya, General Secretary of NCHRO welcomed the gathering and shared the activities of NCHRO done in the different parts of the country. Adv. A. Mohamed Yusuff, Secretary of NCHRO explained about the MCM Award. Programme convener Ansar Indori gave an introduction about Dr. Suresh Khairnar.
Dr. Manisha Sethi of JTSA, S.A.R. Geelani – President of CRPP, Dr. G.N. Saibaba of Delhi University addressed in the programme. Hundreds of activists participated in the award ceremony.
The award is instituted by NCHRO in memory of late Mr. Mukundan C Menon, the founding General Secretary to recognize individuals, institutes or organizations involved in the protection of human rights and environment. The award included a plaque, the citation and a cash prize of Rs. 25,000/-.
Ansar Indori
Programme Convener
Please follow and like us: