LUCKNOW: Samajwadi Party leader Azam Khan walked out of Sitapur jail at 8am on Friday to a rousing welcome by his supporters and a host of SP MLAs at the jail gates.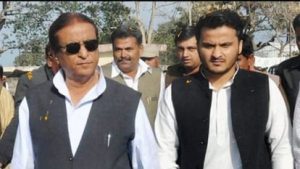 He was received by his both sons, Abdullah and Adeeb, apart from MLA Ashu Malik and Mohd Faheem among others.
Azam Khan's lawyer Zubair Ahmad said they had already submitted two bail bonds of Rs one lakh each.
Azam Khan is likely to head to Rampur after his release. His son Abdullah Azam tweeted that his father's release would bring him "like a sun out of the jail and the morning rays would eliminate the darkness of tyranny".the Supreme Court on Thursday granted him interim bail in an alleged cheating case paving way for his release, saying it is a fit case to invoke its extraordinary power under Article 142 of the Constitution as facts in the present case are very peculiar. "The petitioner is directed to be released on interim bail in respect of FIR being Case Crime No. 70 of 2020, registered with Police Station Kotwali, Rampur, Uttar Pradesh for the offences punishable under Sections 420 (cheating) and 120B (criminal conspiracy) of the Indian Penal Code on such terms and conditions as found appropriate by the trial court," a bench headed by Justice L Nageswara Rao said. The bench noted that "in ordinary circumstances, we would not have entertained the present writ petition.
The petitioner would have been directed to take recourse to the remedy available to him in law. However, the facts in the present case are very peculiar."He had submitted that the present case is a case of political vendetta. The top court had earlier expressed displeasure over the delay in hearing the bail application of Khan, saying this is a travesty of justice.
An FIR was lodged against Khan and others for alleged grabbing of enemy property and misappropriation of public money of more than hundreds of crores of rupees. It was alleged in the FIR that during Partition one Imamuddin Qureshi went to Pakistan and his land was recorded as enemy property, but Khan in collusion with others grabbed the plot.
Please follow and like us: