Participates in discussion on Sport Unites the Nations (C-09)
Says the effort is a great step forward to place sport at the service of human kind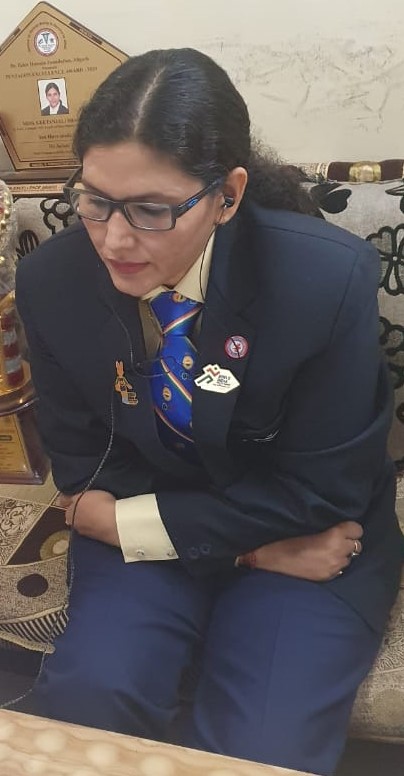 Ms. Geetanjali Sharma, Advocate Supreme Court of India and Senior Government Counsel, Government of India & Sports Authority of India participated virtually in the Field Specific Session organized by "International Municipal BRICS Forum" from 5th– 6th November, 2020 on the topic "Sport Unites the Nations (C-09)". Addressing the session, Geetanjali stated that today's topic is very relevant, in fact, sports bring our shared values and goals into alignment.
She said that the municipalities of BRICS countries know how much sports can do to address the vast array of human and social needs in the areas of health, education, inclusion, sustainable development and peace. Talking about the BRICS countries diverse culture and societies, she mentioned that sport is the best bond regardless of social, racial, political background.
It is a great step forward in our joint effort to place sport at the service of human kind. On contribution of sports to health, she said role of sports is obvious with clear scientific evidence both with regard to prevention of non-communicable diseases as well as to cure and rehabilitation.
Geetanjali further added that during COVID 19 pandemic time, individuals are carrying out indoor sports and yoga practices which are very much accepted and balanced the physical and psychological behavior of the sports persons at large.
Congratulating the Russian Government and Authorities of Russian Sports Ministry to organise FIFA in 2019 in Russia, she said, "It was really a great step which united the world and gave opportunity to many sports persons to visit Russia and understand closely, the legacy of Russian sports".
Adv. Geetanjali Sharma informed that Shri Kiren Rijiju, Hon'ble Minister of Youth Affairs & Sports, Govt. of India has recently announced that BRICS Games 2021 is being planned and will be aligned with the Khelo India Games schedule in India. She quoted the Minister, "BRICS Games 2021 will be held during same time and at same venues as of Khelo India Games 2021 , so that our players from various parts of the country, who will gather for Khelo India Games, will get the benefit and great opportunity of witnessing BRICS Games from close quarters. This will be a great morale booster and motivational moment for them,".
She also said that undoubtedly the Sports Authority of India (SAI), the field arm of the Sports Ministry, supports and nurtures talent in youth, and provides them with requisite infrastructure, equipment, coaching facilities and competition exposure.
Referring to the ''Ek Bharat, Shreshtha Bharat" program, she said on the call of the Prime Minister, Narendra Modi, indigenous sport in India like Kho-Kho, Tug of war, Gilli-Danda, Kite-fighting and Kabaddi etc. are being encouraged.
Advocate Geetanjali Sharma also moderated the program ''Vision of Future 2019'' organized by BRICS International Forum last year in which representatives of sixteen nations participated.
The Forum attended by 3,500 Person. Russian and foreign statesmen, representatives of business and academia, corporate, executive, authoritative public experts, sports person, media and many other Peoples.
Please follow and like us: