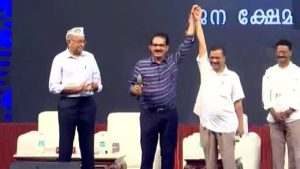 Kejriwal uses his famous election tools like free electricity, public health services and overall education to compete with other parties in Kerala.
Aam Aadmi Party (AAP) national convener and Delhi Chief Minister Arvind Kejriwal, who is on a visit to Kerala, announced an alliance with Twenty20, a regional party in Kochi, to contest the upcoming Thrikkakara by-election. The alliance will be called the People's Welfare Alliance.
Earlier, Twenty20 co-ordinator Sabu M Jacob confirmed that the party will ally with AAP in the Thrikkakara by-election. The move is seen as an attempt by AAP to set foot in other states in India after their resounding victory in Punjab.Today is a historic day for Kerala. Now, there will be four political alliances in Kerala–LDF, UDF, NDA and the name of our alliance will be People's Welfare Alliance. Through a new political front – People's Welfare Alliance – Aam Aadmi Party and Twenty20 will work together for the welfare of Kerala and its people",.
Kejriwal said,If you want politics, riots and corruption you can go to them [other political parties]. If you want development, schools and hospitals, you should come to us. Other parties will never provide education to your children because they want to do riots and hooliganism," he added.
Kejriwal further mentioned that a poor labourer in Delhi gets over ₹15,000 as minimum wage that is the highest in India. "On top of that, labourers get quality healthcare, education, transport for women, electricity, water, everything for free. This is possible because of the honest AAP government," he said.
Kejriwal earlier today visited India's first Food Security Mart, a revolutionary initiative by Twenty20 party led by Sabu Jacob in Kizhakkambalam, Kerala today.This is the first visit of Kejriwal to Kerala after he won the Delhi assembly elections for the second consecutive term in 2020.
Please follow and like us: