Maulana Qari Syed Mohammad Usman Mansoorpuri was flag-bearer of the composite nationalism and Hindu Muslim unity
New Delhi December 17, 2021:- An special issue of 'Amir-ul-Hind-Rabey' was released today at Jamiat Ulama-i-Hind's headquarter to commemorate the life and achievement of Maulana Qari Mohammad Usman Mansurpoori, Ex-President of Jamiat Ulama-i-Hind (JUH). On this occasion, many great Islamic scholars were present.
In his presidential address, Maulana Mufti Abul Qasim Nomani, rector of Darul Uloom Deoband said that Qari Muhammad Syed Usman Mansurpoori was an all-encompassing personality and he led the community at a very critical time. Every aspect of his life is a source of guidance for us. He said that he was considered as one of the most talented scholars of the late Darul Uloom at Deoband. His illustrious life is a role model for coming generations.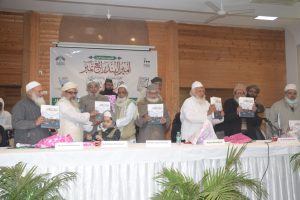 Maulana Syed Arshad Madani Ameer-ul-Hind while delivering his key address said that Maulana Mansurpoori was the epitome of good morals and a highly successful teacher. A special attribute of him was that after graduation, he established a relationship with Hazrat Shaykh-ul-Hadeeth Maulana Muhammad Zakaria for spiritual attainments. He also received spiritual training from Hazrat Maulana Syed Asa'd Madani.
Maulana Mahmood Asa'd Madani, President of Jamiat Ulama-i-Hind while addressing the gathering, announced the institution of an award "Mujahid Khatam Nabuat Award "in his name. Maulana Madani also said that Maulana Qari Mohammad Usman sb during his tenure as president of Jamiat Ulama-i-Hind rendered outstanding services. Under his leadership, the JUH launched countrywide anti-terrorism movements which had a positive impact across the country. He was flag-bearer of the Hindu Muslim unity and composite nationalism.
Maulana Nematullah Azmi, the great Islamic scholar said in his speech that Hazrat Qari Sahib was a person of high rank, humble, pious and just temperament which will be witnessed by all those who had worked with him.
 Prof. Akhtar Al-Wase while addressing the gathering on the occasion said that Maulana Usman was an embodiment of deep knowledge and patience. Maulana Syed Ashhad Rashidi, while addressing the gathering said that the most important lesson of his life is that he served the nation and community without distinction of caste, creeds and religion etc.
Deputy Amirul Hind, Maulana Mufti Syed Salman Mansoorpuri in his speech said that there were four salient virtues in life (1) training (2) Integrity and distinction in teaching (3) rebuttal of falsehood (4) following principle.
Apart from these personalities, Maulana Abdul Aleem Farooqui, Maulana Badruddin Ajmal, Dr Syed Mohammad Farooq Delhi, Maulana Niaz Ahmad Farooqi, Secretary of Jamiat Ulama-i-Hind, Maulana Mohammad Salman Bajnoori of Darul Uloom Deoband, Maulana Mufti Khurshid Anwar Gaawi of Darul Uloom Deoband, Maulana Mohammad Rashid Gorakhpuri. Maulana Shamshad Rahmani Deputy Ameer of Imarate Shariah Bihar, Maulana Qari Shaukat Ali, Maulana Shah Alam Darul Uloom Deoband, Maulana Muniruddin Darul Uloom Deoband, Maulana Mufti Abdullah Marufi, Darul Uloom Deoband, Maulana Abdul Hameed Nomani, Maulana Shamim Ahmad Ameer Shariat Delhi, Maulana Mufti Zakawat Hussain Naib Ameere Shariat Delhi also addressed the function. Mufti Syed Mohammad Affan Mansoorpuri moderated the event. Apart from them, Maulana Siddiqullah Chaudhry, President Jamiat Ulama West Bengal, Maulana Syed Mohammad Naeem, Khan Jahan Puri, Maulana Mohammad Salim Muradabad, Saud Ahmed Advocate, Maulana Syed Mohammad Saleem Mansoorpur, Syed Mohammad Rafi Muzaffarnagar, Maulana Yahya and a large number of scholars and intellectuals were present on the occasion.
Issued by:
Niaz Ahmed Farooqui
Secretary, Jamiat Ulama-i-Hind
Please follow and like us: