Senior BJP Leader, M Venkaiah Naidu will today file his nomination for the post of Vice President of India.Yesterday, BJP President Amit Shah in New Delhi announced his name for the NDA vice president candidate after the Party Parliamentary Board meeting. Mr Shah said him one of most recognisable faces in the party.
After the announcement of the candidature of Mr Naidu, Prime Minister Narendra Modi in a series of tweet said that he is a fit candidate for the office. Mr Modi said, the years of Parliamentary experience Mr Naidu has, will help him discharge the important role of Rajya Sabha Chairperson.
Andhra Pradesh Chief Minister N Chandrababu Naidu also hailed the choice while The ruling TRS in Telangana and In Tamil Nadu, the rebel AIADMK faction led by former chief Minister O Panneerselvam has extended their support to Mr Naidu's candidature.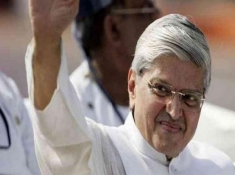 After his selection as NDA candidate, Mr Naidu resigned as Minister of Information and Broadcasting and Housing and Urban Affairs.
Naidu had started his political career as a worker of the ABVP, the students' wing of the RSS, and held positions in student unions. He was also the president of the Bharatiya Janata Yuva Morcha, the BJP's youth wing.
The four-time Rajya Sabha member was also a member of the Andhra assembly. He was the rural development minister in the first NDA government.
Mr Naidu, who is 68, serverd two-time as the party president is pitted against Gopalkrishna Gandhi. Mr Gandhi was chosen by an alliance of 18 opposition parties, including the Congress.
Mr Gandhi will also file his nomeenation today. 72 Year old, Gopalkrishna Devdas Gandhi is the grandson of Mahatama Gandhi. He is a retired IAS officer and diplomat. He also served as the 22nd Governor of West Bengal during the UPA regime.
Today is the last day for filing the nominations. The scrutiny will be held on tomorrow and the last date for withdrawal of nomination is 21st of this month.
The Vice-President is elected by an electoral college comprising members of both the Houses of Parliament including nominated members.
The electoral college for the August 5 election consists of 790 MPs of the two chambers of Parliament. NDA's has numerical superiority in the electoral college over the opposition.
Please follow and like us: