Rain cheers up Delhi -NCR after Dust storm,Skymet forecasts thunderstorms in next Hours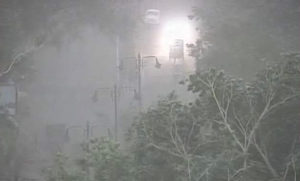 National capital Delhi and NCR experienced a sudden dust storm in the evening today ,causing the mercury  to dip. Rain and strong winds brought some respite to the people from the heat of the last week.
Skymet says thunderclouds are heading towards Delhi. Thundershowers are possible over the Capital, as well as Noida, Faridabad and Ghaziabad in the next hour or two.
The weather agency has forecast thunderstorms and dust storms in Delhi-NCR for the next 24 hours to 48 hours and light rain till Tuesday. Skymet attributed these weather changes to a Western Disturbance over Jammu and Kashmir.
"As these are pre-monsoon activities, they will mostly occur during the latter part of the day or evening," Skymet said in its report.
Near about 24 flights have been diverted out of Delhi so far due to  sudden change in weather .Top Bureau
Please follow and like us: