Proff. VK Tripathi meets shaheen bagh daadi Bilqis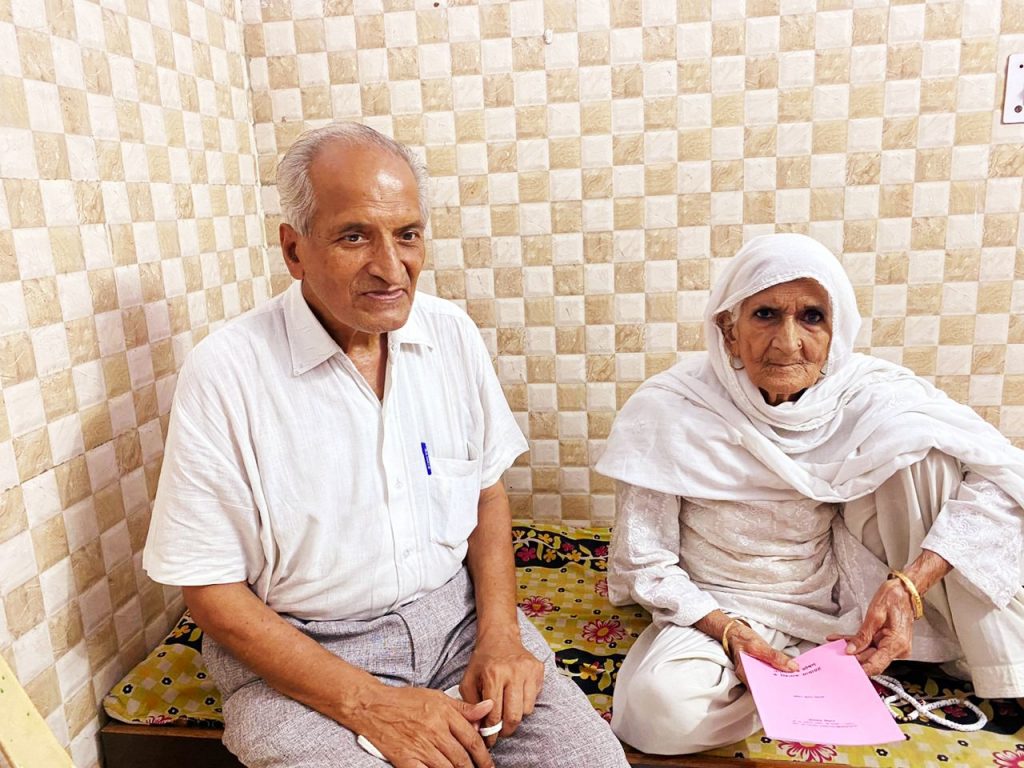 TimesofPedia/New Delhi /Special Correspondent report:// The news of Shaheen Bagh Daadi Bilqis appearing in Time magazine among 100 most influential persons of the world brought joy and satisfaction to millions. Eminent social worker Proff. Vipin Tripathi met the famous Shaheen Bagh Daadi recently ,whose name rose to fame during Shaheen Bagh Protest against CAA and NRC.
Proff. Tripathi says , "I went to Shaheen Bagh and was able to search her contacts. One of his aquaintance Amjad gave the phone number of her son Manzoor Ahmad who came on his scooter to pick me up from the main road. As I enetered his home, Bilqis daadi was sitting on her takhat, dressed in white salwar kurta with Tasbeeh in her hand. "
Her innocence and warmth overwhelmed me. Her words were simple, devoid of any showoff or artificiality. As I told her about her name appearing in Time, she said "Maalik ka karam hai jo yeh kaam logon ki nazron tak panhuncha, sab ka kaam tha. Hum to apne wazeer e aazam Modi se milna chahte the, par police ne nahin jaane diya. Ab Modi bulayenge to hum jaayenge, sachchi baat kahne. Corona ki wajah se aandolan rokna para, par hamare dil mein zinda hai."
Proff. Tripathi gave 20 copies of Satyagraha book that has mention of anti CAA protest led by Shaheen Bagh Dadis. Vipin Kumar Tripathi also visited the site near Batla House where DDA demolished over 100 jhuggis, that were there for 15 years. H said People were still reeling under the impact of lockdown that this tragedy has fallen.

He said ,In Okhla area he talked to some friends about his proposed reorientation course in IX – X mathematics to people who have passed B.A., M.A. or B.Ed. in arts subjects.
Proff. Tripathi style reminds us of the Gandhian Era
Mr,Vipin Tripathi's visit to Dadi's House reminds us of the Gandhian Era ,where People irrespective of religion and cast were extending whole hearted support to the national cause of attaining independence.
As world knows "Mahatma Gandhi was a Jihadi of a non-violent kind. Jihad in Islam means 'struggle with one's own conscience'. He was inspired by Islam and imbibed that in his satyagraha," said Gita Dharampal, from the South Asia Institute.
"Presenting a paper at The Energy Resources Institute, on 'Gandhi and Islam', Gita explained his efforts to bring Hindu-Muslim unity. "I want this paper to provide answers to present concerns. Right from the cold war, the bombing of Iraq, Afghanistan, oil politics, bombing of twin towers was all part of power politics; and less to do with Islamic radicalism," she said.
Presently Proff. Vipin Tripathi personifies Gandhi .A true Gandhian ,he leads a simple life with a Noble mission of spreading communal harmony , building a cohesive society where all human beings can stay together without any fear and diffrence .He regularily organises seminars ,debates and conferences on national integration and issues of national interest concerning poor farmers , labourers and artisans .
Proff. tripathi will hold discussions on "Ways to face attacks on Satyagrahis "at Rajghat at 11 AM to 1 PM on October 2nd, 2020. Shri Anil Nauriya, Advocate Supreme Court will make a speech on Non-cooperation Movement as this is its centenary year.
You are requested to join the event on the same date and time .

Please follow and like us: