The book on stories of young legal professionals in India "On The Rise " is going to be released on 19th of Jul 2017 at Plenary Hall, Indian Law Institute ,Bhagwandas Road, New Delhi-110001.The Chief Guest of the event will be Hon'ble Mr.  Justice A.K. Sikri Judge, Supreme Court of India .
Guests of Honour for the event are Mr. Fali. S Nariman (Constitutional Law Expert and Senior Advocate, Supreme Court of India); Mr. P Chidambaram (Member of Parliament and Senior Advocate)and Dr. Abhishek Manu Singhvi (Member of Parliament, National Spokesperson, Congress and Senior Advocate, Supreme Court of India)
According to former Cabinet Minister and senior advocate P. Chidambaram , "every Lawyer will face a moment when he or she will desperately look for a word of encouragement .This book can be that source of encouragement and support".
The book has received following reviews:
"On the rise" is a book one of its kind, which must be in the hands of every young aspiring lawyer, hoping to make a mark."
-Hon'ble Mr. Justice A.K. Sikri (Judge, Supreme Court of India)
"The Law is a humbling profession, and there is a constant and compelling need to keep–up–with–the–law as it keeps evolving – not just in India but around the common–law–world.  And beginners must never forget what a favourite teacher of ours in the Law College in the 1940s (Nani Palkhivala) used to constantly tell us "God pays, but not every Saturday"!
-Fali S. Nariman (Senior Advocate, Supreme Court of India)
"Useful, informative and thought provoking with highly diverse as many as twenty contributors. A recommended reading for the fresh law graduates"
-Professor (Dr.) Faizan Mustafa (Vice-Chancellor NALSAR University of Law)
"This thoughtful book is a must read for not only aspiring students, but also lawyers. The book highlights and recognises the outstanding contribution of lawyers from diverse fields, while celebrating the contours of the legal profession in all its manifestations."
-Professor (Dr.) C Rajkumar (Founding Vice-Chancellor, O.P. Jindal Global University and Dean, Jindal Global Law School)
All Professionals and students are invited in the book launch ceremony with their friends and colleagues.
The Book at a glance
The Author of the book Adv.Tariq Khan has given the following information about the book: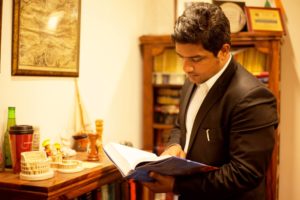 "Legal profession in India has undergone a sizable change over the last few decades with various facets of law which are constantly evolving. Nowadays, law is not just a set of rules but an instrument of equal justice for the progress, benefit, and better functioning of the society. With the advent of integrated five-year law courses, law has become a popular career choice amongst young students. However exciting this journey is, it entails challenges for budding lawyers as opportunities are not uniform nationwide and therefore, students in many law schools make their career choices not based on their area of interest but as per the availability of opportunities. Incidentally, some students develop feelings of despair and anxiety over whether your choice of law was worth it. Having said so, I realized that there is no dearth of opportunities; but it is the dearth of information that restricts the trickling down of variety of options available to budding lawyers. I must add that when students are confronted with sharp questions pertaining to their choice of career, they resort to obfuscation. Thus, it is necessary that legal education be enriched by taking new initiatives for exposing law students to realistic working situations of lawyers.
The endeavor of this book is to impart upon young lawyers and law students information concerning what it takes to prosper, where the risks are, how to curtail those risks, and how to identify and adapt to existing trends in the legal profession.  This book contains a mix of advice which will eventually enable law students to envisage the direction that best suits them. Earlier, legal profession was considered to be a family profession; however, in recent times 'first-generation' lawyers are steadily making their way in the field of law. While the interest in law and expectations of budding lawyers are growing, the capacity to satisfy these demands is showing a reverse trend. With this growing interest in law, there is a dire need for a publication to guide budding lawyers and give them an insight of the legal profession and the challenges that follow.
On the Rise is a short introduction to many of the challenges that lawyers face in the legal profession. This book is an edited volume with 20 contributors on board and each contributor has something unique about their experience. Incidentally, I left no stone unturned while balancing the list with representatives from different backgrounds and fields (e.g judges, practicing lawyers, foreign lawyers, academicians, law firm partners, social workers, entrepreneurs etc.). Each chapter, sharing the story of each contributor, is laced with quotations, anecdotes and series of vignettes which provide a glimpse of the challenges and hardships in the legal profession and dexterously convey a message that aspiring lawyers should remain idealistic and optimistic. The publication is not intended to advertise or glorify the professional achievements of these individuals; but is merely a source of firsthand information for many such aspiring legal professionals on various aspects of their area of expertise. The contributors shed light on their experiences and give an honest account of the significant events that stood out in their college life as well as professional life and give guidance to aspiring law students to move in the right direction and deftly avoid the pitfalls. This publication is also a collection of reminiscences on the events of college and professional life that have been recounted with ineffable charm and written in a simplistic and entertaining manner. Law students and aspiring lawyers will find this book informative, educative and thought-provoking as it encompass various fields of law. Besides the content which makes this an endearing read, this book is also suffused with a rare warmth and humility. All in all, a compassionate and profitable work written by twenty contributors who come from different walks of lives.
Please follow and like us: