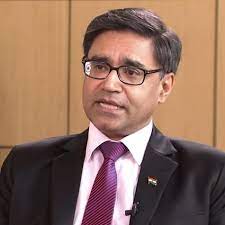 China on Monday ruled out the easing of visa curbs and border controls in the near future which have prevented thousands of stranded Indians from returning to Beijing, saying it will make timely adjustments and proper arrangements in light of the changing situation and needs.

Responding to questions on Indian ambassador to Beijing Vikram Misri's criticism of China's prolonged stringent travel restrictions, Chinese Foreign Ministry spokesperson Hua Chunying said the prevention and control measures that China has to adopt amid COVID-19 are appropriate and not targeting India but applied to everyone. Mr. Misri, in his address to the Track-II Dialogue on China-India Relations last week, expressed "disappointment" over China's reluctance to permit the return of thousands of stranded Indian students, employees and their families due to the COVID-19 pandemic.
He described China's restrictions on bilateral movement as an "unscientific approach" which he described as a purely humanitarian issue not related to diplomatic stances. Asked for her reaction, Ms. Hua told a media briefing in Beijing that the measures were taken for the safety and wellbeing of the people.

China's assertion of COVID-19 control measures created confusion as China allowed international students from South Korea and USA to enter the country despite COVID-19 cases in these countries. "With effective prevention and control measures in place, China is willing to work with all countries, India included, to make proper arrangement for the exchanges of personnel in the context of COVID-19. But I don't mean to say that we will immediately solve the issue," Ms. Hua said when asked whether China will discuss the resumption of travel with India. Ms. Hua also said the travel curbs are applied to Chinese citizens returning from abroad.

More than 23,000 Indian students studying in Chinese colleges, mostly medicine, hundreds of businesspersons, employees, and their families have been stuck in India since last year. The curbs also resulted in several people either losing jobs, businesses or separation of families.
Please follow and like us: