Jamiat delegation met with the police officials. Offered legal assistance to the victims. Jamiat relief committee constituted-
New Delhi, May 17: At the direction of President of Jamiat Ulama-i-Hind Maulana Mahmood A. Madani, a delegation of Jamiat visited the riots-hit area of Karoli (Rajasthan) and met with the victims there. The Jamiat offered legal assistance to the victims and assessed the on-going rehabilitation activities. In this riot, miscreants burnt down 77 shops, out of which 67 shops belonged to the Muslim minority. In addition, a large number of people have been arrested so far.
The delegation headed by Maulana Hakeemuddin Qasmi, JUH General Secretary met with the district SP and DM. On this occasion, Maulana Hakeemuddin Qasmi noted that the country's economy is going through a very difficult phase. In this hour, such kind of riots adds more woes as they involve much economic damage too.
He said that "No country is built in the air but it constitutes its people, houses, shops, cities and towns, trees, roads, and vehicles, harming any of them are equal to harming the nation.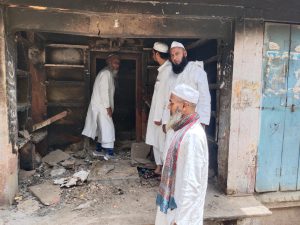 The Jamiat Ulama-i-Hind always stands that the district administration should be held responsible for the riots for its helplessness and incompetence. Maulana Hakeemuddin Qasmi asked the SP how a rally with a hateful DJ shouting was allowed in this sensitive area while it was banned for 20 years. The government and the administration should always be vigilant about the sensitive areas and such sectarian elements should never be allowed to hold rallies.
The delegation noted that the riots in the area were escalated for political mileage too, especially to widen the gap between the two communities. The delegation demanded that action be taken against the communal outfit which engineered the riots; mere action against individuals will not serve any purpose.
The delegation included Maulana Hakeemuddin Qasmi, Maulana Ghayyur Ahmad Qasmi, Senior Organizer of Jamiat Ulama-i-Hind, Maulana Noman, Vice President of Jamiat Ulama-i-Rajasthan, Maulana Muhammad Younus, Maulana Anis, JUH district president Karoli, Mufti Islam, Hafiz Luqmanan, Maulana Mahboob, Hafiz Babuddin, Mufti Islam, Hafiz Liaqat, Haji Abdul Hai and others.
Dear Editor, Thank you for publishing this release.
Niaz Ahmad Farooqi
Secretary, Jamiat Ulema-i-Hind
Please follow and like us: