New Delhi, September, 21, 2017:
Thousands of people held a massive protest demonstration on Thursday against the ongoing persecution and worst ever exodus of Rohingya Muslims and others in Myanmar.
Maulana Mahmood Madani, General Secretary of Jamiat Ulema-I-Hind, was leading the protest demonstration held under its chapter of Delhi unit at Jantar Mantar near the Parliament House.
On this occasion a memorandum was submitted to Secretary General, United Nation, Minister of Home Affairs, Government of India, Ambassador and Embassy of Myanmar at New Delhi

While addressing the massive gathering Maulana Mahmod Madani pressed upon the international community especially the UN to take practical action against the Myanmar Government instead of merely passing buck and condemnational statement.  He urged the international community to impose economic blockade against the Myanmar state like it did in case of North Korea.
Maulana Madani also criticized the approach of the Indian Government towards the Rohingya refugee living in the country.
"May be Indian government, either due to its politics, cheap mentality or helplessness, is ready to defame India but Indian people cannot defame their country. India is known for standing with the oppressed but today it is with oppressors. It is condemnable," he said.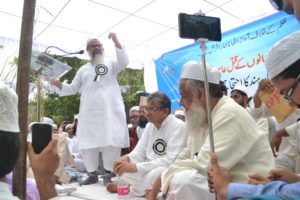 Maulana Madani also said that the attitude of the Indian government is defacing our image among comity of the nations. On one hand, India spires to become a permanent member of UN Security Council, on the other hand, human blood is spilling over in the neighborhood and India is siding with oppressors. Then how such a country can become a member of the UN Security Council? 
"Is it Vasudheva kutumbkam (whole world is one family)? Indian government must change its policy and protect the image of India ," he demanded.
Leaders from other Muslim organizations including Navaid Hamid, President, All India Muslim Majlis-e Mushawarat, Zafarul Islam Khan, Chairman Delhi Minority Commission, Maulana Niaz Ahmad Faruqi, Maulana Abid Qasmi president Jamiat Ulama Delhi state, Firoz Ahmad Bakht, Maulana Ali Hasan Gujarati, Maulana Raees Khan Noori were also there to raise their voice in favour of Rohingyas.top bureau
Please follow and like us: