PM Modi participates in programme to be attended by over 2 lakh women in Prayagraj; To transfer Rs 1,000 cr to SHGs benefiting around 16 lakh women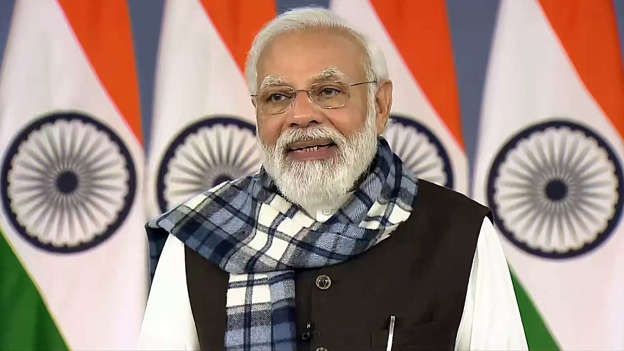 Prime Minister Narendra Modi participated in a unique program on women empowerment which was attended by over 2 lakh women in Prayagraj Uttar Pardesh today. Many of them were beneficiaries of various government schemes.
The Prime Minister also interacted with beneficiaries on the occasion. In an endeavour to support women,  the Prime Minister laid the foundation stone of 202 Supplementary Nutrition Manufacturing Units and transferred an amount of Rs. 1000 crore in the bank account of Self Help Groups (SHGs), benefitting around 16 lakh women members of the SHGs.
This transfer was done under the Deendayal Antyodaya Yojana – National Rural Livelihood Mission (DAY-NRLM), with 80,000 SHGs receiving Community Investment Fund (CIF) of Rs. 1.10 lakh each and 60,000 SHGs receiving Revolving Fund of Rs. 15000 each.
The programme also saw the Prime Minister encouraging Business Correspondent-Sakhis (B.C.-Sakhis),  by transferring Rs. 4000 each as first month's stipend into the account of 20,000 B.C.-Sakhis. When B.C.-Sakhis commence their work as providers of doorstep financial services at grass root level, they are paid a stipend of Rs. 4000 each for six months, so that they get stabilized in their work and then start earning through the commission on transactions.
During the programme, the Prime Minister also transferred a total amount of over 20 crore to more than 1 lakh beneficiaries under the Mukhya Mantri Kanya Sumangala Scheme.
The Scheme provides conditional cash transfer to a girl child at different stages of her life. The total transfer is Rs. 15000 per beneficiary which is given at stages.
Prime Minister laid the foundation stone of 202 Supplementary Nutrition Manufacturing Units. These units are being funded by the Self Help Groups and will be constructed at the cost of approx Rs. 1 crore for one unit. These units will supply the Supplementary Nutrition under the Integrated Child Development Scheme (ICDS) in 600 blocks of the state.
Today is a historic day for Uttar Pradesh as the Supplementary Nutrition scheme worth around rupees 4000 crores goes into the hands of women completely. From now on, the women of self-help groups will supply supplement nutrition district wise. Government is going to construct Supplementary Nutrition Manufacturing Units at every district and block level.
Production has already started in Fatehpur and Unnao units. Now the women of rural areas will prepare the supplement nutrition and the raw material will also be purchased from the villages. Government will also construct warehouses for the storage of supplement Nutrition. it will not only make around 10 lakh women of state self reliant but will also pave way for the economic development of the villages.
AIR correspondent reports, Despite of the biting cold  here at the banks of sangam, Thousands of women from different corners of the state waited eagerly at parade ground of Prayagraj since morning to listen Prime Minister. The participants shared their experiences with PM and narrated how the government schemes transformed their lives.
Schemes like mukhymantri Kanya sumangala Yojana mukhymantri Vivah Yojana Ujjwala Yojana and state livelihood mission have helped a lot to the women of the state.
The woman associated with self help groups are playing different roles at Grass root level from maintaining toilets in rural areas to providing diyas for Deepotsava function and making themselves self-reliant.
The programme was held as per the vision of the Prime Minister to empower women, especially at the grassroot level, by providing them with necessary skills, incentives and resources.
Please follow and like us: