New Delhi:बहुत शोर सुनते थे पहलू में दिल का
जो चीरा तो इक कतरा-ऐ-खूँ न निकला
– आतिश
Bohut shor sunte thae pehlu mein dil ka
jo cheera to ek qatra-e-khooN na nikla
– Aatish
स्वच्छ अभियान और दिल्ली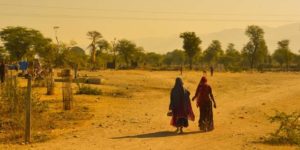 A survey was carried out by Delhi Urban Shelter Improvement Board (DUSIB) engineers to provide real time data on the problem of open defecation.Survey founded at least 234 spots in Delhi are used by the poor as open defecation grounds, a first ever citywide survey on the practice has revealed. Most of these spots are open fields next to slums or spaces along railways tracks.
"All engineers of DUSIB were asked to visit slums and its surroundings to identify common open defecation spots between 5am to 8am on two non-working days—Ram Navami and Mahavir Jayanti. They were asked to record not just the sites but also capture details about existing individual and community toilets," DUSIB CEO V K Jain said.
"A database of images from the field has also been created for reference for planners," Jain said.
According to an estimate, there are 17,000 community toilets across the 700-odd slums in the city, where 3.14 lakh jhuggis are home to almost 15 lakh residents. Another 21,000 community toilets will be required to make Delhi open defecation free.
DUSIB estimates show there are about 79,000 individual toilets attached to jhuggis. That means only 25% jhuggis have access to individual toilets.
The Aam Aadmi Party government, which is drawing up an open defecation-free plan for the capital, has set out a steep target of building 10,000 toilets in the current fiscal and meet the remaining requirement of 11,000 toilets by March 2018.
However, the linkage of individual and private household toilets with sewer systems remains a huge challenge.
Most of these toilets in slums either use septic tanks or open out into storm-water drains, aggravating the sanitation disaster in these places.
Aam Aadmi Party in its manifesto had promised to build two lakh new public toilets over five years. In its first year in power, DUSIB says it has been able to build just 4,500 new toilets. The two-lakh target is clearly appearing hard to achieve, so the focus is shifting to making Delhi open defecation-free. The government has assigned about Rs 100 crore under the Delhi budget for building the 10,000 toilets in the current financial year.
It is learnt that, based on the survey of open defecation spots, DUSIB is preparing a ground report for chief minister Arvind Kejriwal, which will access where toilets are required the most.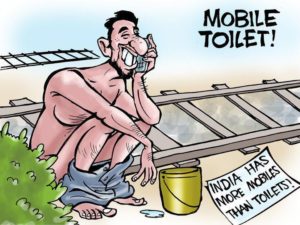 One of the concerns that DUSIB is currently trying to address is the fact that it will not be possible to build toilets along railway lines as that is a safety hazard. To overcome this the government will have either look for land around slums or explore options such as porta-cabin structures in vacant spaces for toilets. In slums where there is no available space, mobile toilets may be the only solution. At some spots, DUSIB may decide to build two-storey toilet complexes.
In cases where available land is owned by an agency other than Delhi government, the state proposes to find a way to build toilet complexes there.
While adding toilet seats is a key concern, another major issue before DUSIB is the process of bringing about behavioural change. DUSIB plans to trigger the process of creating self-help groups with the help of voluntary organisations to sensitise slum dwellers about water conservation, sanitation and proper use of toilets.
A list of NGOs working on sanitation, hygiene and health is being prepared to facilitate the community sensitisation and awareness building.
Please follow and like us: