Mumbai;dated/10th Jan, 2019//
Vichar vibhag of MRCC meets to chalk out strategy for 2019 loksabha elections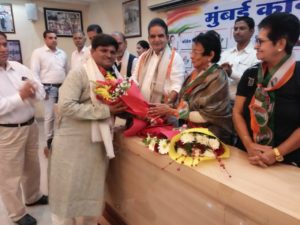 The vichar vibhag of MRCC held its meeting at mumbai .The meeting was presided over by Shri Jaiprakash Singh ,vice president Mumbai Reagional Congress Committee (MRCC) .Dr Jaya Shukla, incharge of Western India including Maharashtra AICC Vichar Vibhag, was the Chief Guest at the event.Addressing the office bearers of the MRCC Vichar Vibhag , she said that cocerted are required to protect our constitution, democray and its rich cultural heritage which is known all over the world.
She further stated that alliance of secular forces is the need of the hour to protect to constitutional rights of the citizen and keep the devisive forses at bay.
Dr Jaya advised the coordinators of the various professional groups to meet regularily for the cause.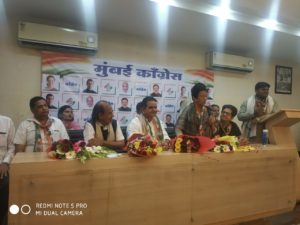 Vice president of MRCC Sri Jai Prakash singh also attract the attention of the gathering towards the cause and protect the constitution of the nation.
The meeting was called by Vichar Vibhag MRCC president Sri Negi. The meeting was attended by all office bearers of the Vichar Vibhag there, including intellectuals and Convenor of the various groups- Teachers, Doctors, Lawyers, Technocrats, Artists and writers, NGOs, etc.
With a view to the coming 2019 elections, action plans and issues were discussed. Every body present was of the view that these elections are of paramount importance, to save our democracy, economy, and social structure.
Please follow and like us: