Youth to recieve 3 months training in water sports to clean Mahanadi 
Kalinga divers foundation to provide Training course of internation stansard for Rivers cleaning 
Underwater Mahanadi cleaning demo Under GSDP – By envis hub.
Under auspicious of center for environmental studies and state hub as a part of GSDP, river waste management live training and awareness program was recently organized under the chairmanship of Prof. Dr. Ashutosh Behera, Director, CES and coordinated by internationally acclaimed scuba diver and limca book of world record holder veteran scuba diver of Odisha Mr. Sabir Bux, founder member of Kalinga Divers Foundation with his professional divers retired navy Commando Mr. Pitabas Sasmal, commercial diver Mr. Falguni Rout with his volunteer team from Tulsipur, Matha Sahi demonstrated a live deep river bed cleaning demo through Scuba diving at Jobra, infront of state Mari time Museum.
Other distinguished guest present were Dr. Anandi Subramaniyan, Sr. Economic advisor ministry of environment forest and climate change, Govt of india, Cuttack Collector and district magistrate Mr. Sushanta Mohapatra IAS, Mr. Kumar Rajnis national program coordinator, Moef and CC, Govt of India, ADM Cuttack Mr. Raghuram Iyer, District education officer Mr. Niranjan Behera, CES program officer Mr. Prabhat Mohan Das, information officer Mr. Prasant Ku Naik, CES, Project Officer Mr. Arjun Kumar Biswal.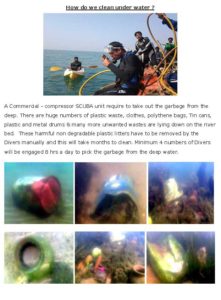 Since many years Sabir Bux and his Kalinga Divers Foundation team has been cleaning river Mahanadi from his own personal interest over time. Due to the noble initiative taken by Mr. Bux he was invited to be felicited at New Delhi for Bharat Samajh Ratna Award which was presented by Union Minister Mr. Muktar Abbas Nakwi and Minister of Water resources and Ganga Rejuvenation Mr. Arjun Ram Meghwal.

1st time a high level delegation team from Central Government including Dept of forest and environment and local administration has taken up above issue seriously and a sustainable project has been chalked out. Like skill development program, Mahanadi cleaning project will be implemented in a permanent basis. Interested candidates will apply online to the concern Dept and they shall receive 3months training in Water Sports.
Kalinga Divers Foundation is providing international standard of training course and also international certification to the candidates. After training the candidates shall be engaged in Mahanadi cleaning and other water sports activities which are coming soon in Odisha through Dept of Tourism in a huge way.
Times Of Pedia Presents
Please follow and like us: