Steering committee meeting of Association For Asian Union (AAU) takes place
Association For Asian Union is planning to hold an Asian tourism summit next month. A meeting was held last evening in this regard in New Delhi.
India needs foreign exchange to overcome deficit of merchandise accounts
Addressing the steering committee members of AAU,Dr. Beni Prasad Agarwal ,Chairman, Association for Asian Union and Asia-Pacific Cooperation,said spreading the ideas of Asian Union to promote economy , peace and coexistence is the urgently reqired in the present scenerio through tourism.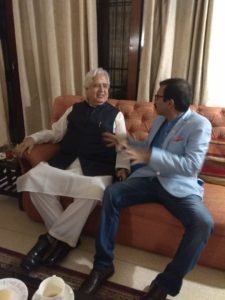 Dr Beni informed that he and Dr. V.H. Manek Kirpalani, Professor Emeritus, John Molson School of Business, Montreal have been discussing the benefit to India if the country can develop a "National Cluster" for the Tourism Sector. As we know on a worldwide basis the tourism sector has often been the leading economic sector for many countries. This is true when  the direct effect plus the multiplier effect is considered.
India has a basic problem of having a current account deficit that includes a persistent deficit on merchandise trade. This is unlikely to change as we need to import large quantities of oil and also we have a goal of rapid domestic economic growth, which will require the support of foreign direct investment inflows.
With India's geographic resort attractions and our vast heritage a "National Cluster" will expand considerably our capacity to gain more foreign exchange; moreover it will impact favorably on our international image. This "National Cluster" could include other sectors; for instance medical tourism, academic tourism through faculty/research conferences and specific courses to attract foreign practitioners and foreign students, sports tourism, and special event tourism.
Speaking on the occassion Sandeep Marwah President of AAU stated that tourism has immense potential to not only boost economic growth in the region but also unite all asian nations together for a better cause .He further said that there should be an Asian Union to tackle many such issues.
D.K.Arya (Rtrd.IPS) VP of AAU, Wing Commndr Bakhshi Sectry Gen., JS Saluja G.S ,Vimal Goyal treasurer,Proff.Gurbir singh G.S Coordination,RK Jain G.S and Ali Aadil khan G.S PR & Press were present in the meeting.
Please follow and like us: