Press Release
Jamiat President endorse Haryana HC Ruling Halting Demolitions in Mewat Region . Maulana Mehmood  constituted 11 members  committee for relief operation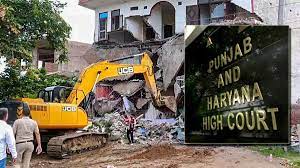 New Delhi, August 9, 2023: Maulana Mahmood Asa'd Madani, the president of Jamiat Ulama-i-Hind, has hailed the recent high court verdict that suspended the demolition activities in Mewat for the time being. This verdict is seen by Maulana Madani as a glimmer of hope for the affected community.
He has directed the officials of Jamiat Ulama to extend comprehensive support to those in need, particularly the displaced individuals. Maulana Madani emphasized that Jamiat Ulama-i-Hind has historically played a pivotal role in nation-building and is steadfast in its commitment to continue doing so.
A significant meeting of state and local representatives from Jamiat Ulama Haryana was convened at Madrasah Ubai Bin Kaab in Ghasera, presided over by Maulana Hakimuddin Qasmi, the General Secretary of Jamiat Ulama-i-Hind . During this meeting, an eleven-member relief committee was formed to systematically administer relief efforts, alongside the creation of a legal cell to facilitate legal actions.
Concurrently, the restoration and renovation projects for Maulvi Jameel Wali Masjid and Shahi Jama Masjid Bara Khamba Wali in Sohna have been initiated under the aegis of Jamiat Ulama-i-Hind. The relief committee comprises Maulana Yahya Karimi as the convener, with members including Master Qasim Mahon, Qari Aslam Buded, Mufti Salim Sakras, Maulana Dilshad, Maulana Hasan, Hafiz Sufyan, Maulana Arshad, Maulana Sajid Palwal, Hafiz Ali Muhammad Palawal, and Qari Sajid.
Meanwhile, a delegation from Jamiat Ulama-i-Hind extended substantial aid by distributing a month's ration among the Assamese labor families residing in Tauro. These families had endured the demolition of their homes and were now residing in tents on the land belonging to Sarpanch Ahmed Ali. Similarly, the delegation also visited Jharna Basti in Ferozpur Jhirka, where a heartrending demolition campaign led to the destruction of one hundred and fifty houses by the administration, rendering the inhabitants homeless.
In addition, the delegation ventured to Biwan village, where they met Abdul Razzaq Sahib, a member of Tablighi Jamaat. Abdul Razzaq Sahib recounted an incident where their Jamaat was targeted by miscreants outside the Palwal Bazar Wali Masjid. During the ensuing turmoil, several members of the Jamaat took refuge on the mosque's roof, while Abdul Razzaq Sahib and two others remained below.
The miscreants entered the mosque and beat them mercilessly. The police intervened, relocating them to an undisclosed location before releasing them. Abdul Razzaq Sahib bore visible injuries but expressed gratitude for their miraculous survival.
The Jamiat Ulama-i-Hind delegation also included Senior Organizer Maulana Ghayur Qasmi, Qari Naushad Adil, Mufti Muhammad Salim Sakras, Maulana Sher Muhammad Amini Ghasera, Master Qasim, Maulana Dilshad, Maulana Zakaria, Maulana Taufiq, Maulana Tayyab, Hafiz Yameen etc..
————–
Niaz A. Farooqui, Secretary Jamiat Ulama-i-Hind
9312228470
Please follow and like us: