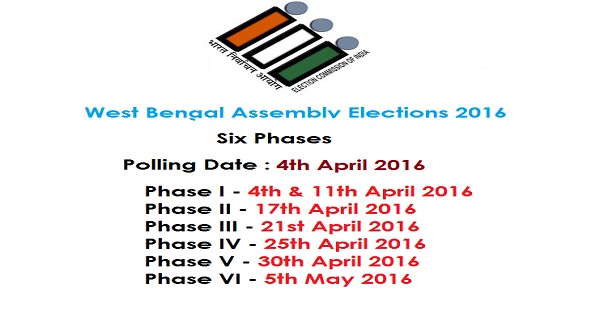 kolkata/top bureau/ West Bengal records 80% polling in the 1st phase of assembly elections on Monday, 4 April 2016.Eighteen Assembly constituencies in West Bengal — mostly in the Jangalmahal area affected by left-wing extremism — went to the polls in the first phase . This is the first phase in a larger election season in which five States will go to the polls.
Communist Party of India (Marxist)
13 seats (In alliance with Congress)
All India National Congress
5 seats (In alliance with CPI(M))
All India Trinamool Congress
18 seats
Bharatiya Janata Party
18 seats
The state has been split into 294 constituencies by the Election Commission. Elections will be conducted in six phases. It will not be easy to predict the outcome for the election in this eastern state this year. For a state, where it seemed like the Opposition (CPM, Congress and BJP) were totally vanquished and the ruling Trinamool was almost invincible, there now seems to be a change in the winds.
Phase 1 includes Paschim Medinipur, Bankura, Purulia and Burdwan
Bengali film actor Soham Chakraborty is one of the key candidates from this region. This will be his first election ever (Barjora, Bankura) and he is riding on a Trinamool Congress ticket. Dilip Ghosh, BJP's state president, is also contesting elections (Kharagpur) from this region.
Phase 2 includes Jalpaiguri, Dakhin Dinajpur, Uttar Dinajpur, Malda and Darjeeling
Key candidates from this region include Bhaichung Bhutia – former footballer is contesting the election on a TMC ticket; he announced assets over Rs 17 crore. Bengali actress Locket Chatterji will contest the election from Mayureshwar on the BJP ticket.
Phase 3 includes Murshidabad, Burdwan, Kolkata North and Nadia
Somen Mitra will contest the election on Congress ticket in Chowringhee. Trinamool Congress leader Nayana Bandopadhyay will also fight it out in this phase. Mitra resigned as a Trinamool Congress MP and joined the Congress in 2014. Smita Bakshi of Trinamool Congress and Rahul Sinha of BJP will also be battling it out in this phase.
Phase 4 includes North 24 Paragana and Howrah
TMC Minister Madan Mitra will be contesting the election from Kamarhati, North 24 Paragana. Madan Mitra has been accused in the Sarada chit fund scam. Madan Mitra will be contesting despite the fact that he is still in jail. Mahila Morcha chief, Roopa Ganguly will battle it out on a BJP ticket against Laxmi Ratan Shukla from TMC, who is also a former footballer.
Phase 5 includes South 24 Paragana, South Kolkata and Hoogly and election will be conducted on 30 April
This region is expected to witness the most action this election. Current Chief Minister, Mamata Banerjee will have a face-off with Chandra Bose of BJP (Subhas Chandra Bose's grand-nephew) and Congress' Deepa Dasmunshi. Mamata Banerjee in the past won the by-polls with huge margins and this will be one fight to watch out for.
In Jadavpur, CPM and TMC will pit their candidates – Sujan Chakraborty and Manish Gupta respectively – against each other. Bengali actress, Debashri Roy from TMC will contest the polls from Raidighi.
Phase 6 includes Cooch Behar and East Medinipur and will go to polls on 5 May
This phase promises to be interesting as the 51 Bangladeshi enclaves will form a new pool of votes (after merging with Cooch Behar's district).
West Bengal election this year might change the political landscape of the state. In 2014 General Election, the vote share of the TMC equaled the combined vote share of CPM and Congress, however with their recent alliance, they might put the TMC in trouble which could otherwise have romped home in this election.
TheTMC seats are likely to come down in this election but it is sure to come out with flying colours. TOP BUREAU
Please follow and like us: