New Delhi /Pervez Bari: Justice Rajindar Sachar, retired High Court judge Delhi, on the occasion of India's 70th Independence Day released the 2047 Document on empowerment project of Empower India Foundation, (EIF), here in the forenoon session of day-long National Conclave entitled 'Empowering the People – India 2047' at the Gulmohar Hall of the India Habitat Centre.
The forenoon session was presided over by Maulana Mohammad Wali Rahmani, general secretary All India Muslim Personal Law Board. The keynote address was delivered by Prof. Amitabh Kundu, chairman, Post Sachar Evaluation Committee.
Speaking after releasing the about 250 pages document Justice Rajindar Sachar said that Empower India Foundation has done such a stupendous job which the governments of the day could not do in the last 70 years. He said a civilised nation is one where the minorities are safe and are able to prosper like other communities. This is a litmus test for good governance of any nation, he said.
Maulana Mohammad Wali Rahmani in his presidential address described the 2047 Document as a mission which will enable Muslims and other marginalised people to prosper and walk shoulder to shoulder with other communities by getting empowered by their own efforts. "Aaj Ka function Aik Naee Subah Ka Aaghaaz Hai (Today's function is the beginning of a new dawn)", he remarked. He  said if Muslims change their mindset then they can tread on the path of success by their own efforts without looking towards the government agencies or others.
Prof. Amitabh Kundu in his keynote address noted that social inclusion is essential for the advancement of the country without which India will not be able to achieve the required growth and development. Social justice and parity in development should be realised.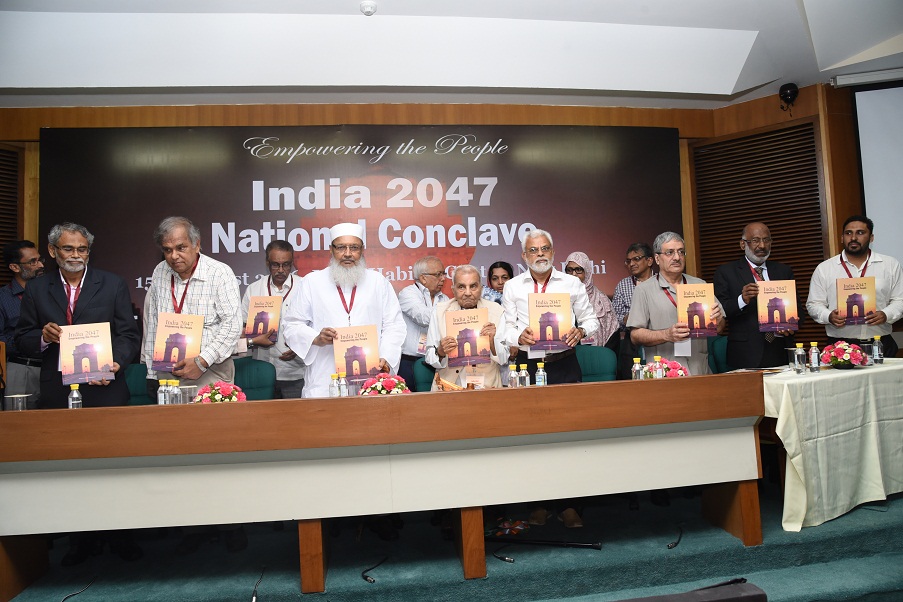 Other dignitaries who spoke in the occasion included: Prof. M. Aslam, Vice Chancellor, IGNOU Prof. P.K. Abdul Aziz, Former Vice Chancellor, AMU; E. Abubakr, Chairman, Rehab India Foundation Kamal Faruqui, former Chairman, Delhi Minorities Commission Adv. Sharfuddin Ahmed, Vice President, Social Democratic Party of India;. Navaid Hamid President, All India Muslim Majlis-e-Mushawarat; Prof. S. Sumayaa Principal, TBAK College for Women, Tamil Nadu; Prof. Nishat Khalida Parveen, Vice Principal Abbas Khan College, Bangalore;
M. Abdul Rehman, Chairman EIF, while welcoming guests and delegates said no doubt India is developing and the wealth of this nation is growing. However, growth and development at the cost of social justice is a real challenge. The gap between privileged and marginalised sections are also growing. Along with Tribals and Dalits, the Muslims are the victims of this unethical and unbalanced growth. He said: "Our dream is of a strong nation. Strength of the people is the real strength of the nation. Our vision is of an all inclusive just India as the nation will remain handicapped till all sections are equally empowered. The Project Document India 2047 : Empowering the People is a community centred project, but not a communal project and is also a national project.
Abdul Rahiman pointed out that alliance building with other classes and communities is a pre-requisite for the empowerment of a particular community in a plural society like India. Responsibility lies at the top and bottom levels. At the top are the duties of the governments of the day while at the bottom are the duties of concerned communities. This task cannot be accomplished by any single group, institution and organization. He exhorted: "Let us act as Change Agents – volunteering, networking, micro-planning, execution, grass-root level system building etc.
Mohammad Raphy, executive secretary of EIF, presenting the Project activities report said that as the first step of the initiative a background paper was prepared and presented in November 2013. Later on brainstorming sessions were held during January-August 2014 on plans to empower the Muslim community in all spheres of life by 2047 – the dawn of the second century of India's Independence. He said in the brainstorming sessions working groups for each of the following focus areas were formed which included: 1. Governance, 2. Economy; 3. Education; 4. Health; 5. Media;  6. Women' Children & Youth; 8. Civil Rights; 9. Broad based Alliance; 10. Social Reformation and 11. Culture & Heritage. Three Support Areas viz. Human Resource Department, Finance & Marketing and Organization were also identified for the successful  implementation of the project. Thereafter,  three years of hectic activities – travels, seminars, discussions continued across the 15 states of India which culminated in the final draft of the Project report was completed in June 2016 and this Project Document is being released today on the occasion of India's 70th Independence Day, he added.
Project Document Editor Prof. P. Koya briefly introducing the document said that EIF's "India 2047" project carries a vision, mission, focus areas, objectives and initiatives. It caries dreams and hopes within dreams and hopes of the destitute. It is not merely vision document but a vision-to-action project. The role of EIF is providing conceptual, intellectual and motivational support, creating awareness and reaching out to local teams, promoting pilot projects; identifying partnerships and implementation agencies, he said.
The vote of thanks was proposed by Anis Ahmed, General Secretary, EIF.
Meanwhile, a seminar on the theme 'Opportunities and challenges in community empowerment' was held in the afternoon. At the outset welcome speech was delivered by Dr. Mohammad Minarul Shaikh, Liaison Officer, EIF. While keynote address was delivered by Dr. Mohammad Manzoor Alam, Chairman, Institute of Objective Studies, New Delhi. Later on two Power Point presentations were made by Dr. Lubna Sarwath, an Economist from Hyderabad, and Nainar Sultan of EIF.
In the end a panel discussion was held which was moderated by Dr. Zafrul Islam, Editor of Milli Gazette. Those who took part in the discussion included Dr. Fakhruddin Mohammad, Honorary Secretary MESCO, Hyderabad; Prof. Shakeel Samdani of AMU, and Abdul Wahid Saith, National Secretary, Popular Front of India. 
M. Abdul Rahiman announced about seven pilot projects undertaken by EIF in partnership with other NGOs. The vote of thanks was proposed by Mohammad Arif Ahmed, General Convener, EIF.
This National Conclave was designed as a get-together of select community leaders and activists from 15 different states. It was an occasion to share views and experiences in bringing inclusive growth by empowering the marginalised people, specially the Muslims and other Backward communities.
Source of news
Riyas Tanur
Media and Relations
Empower India Foundation
9946648760
Please follow and like us: