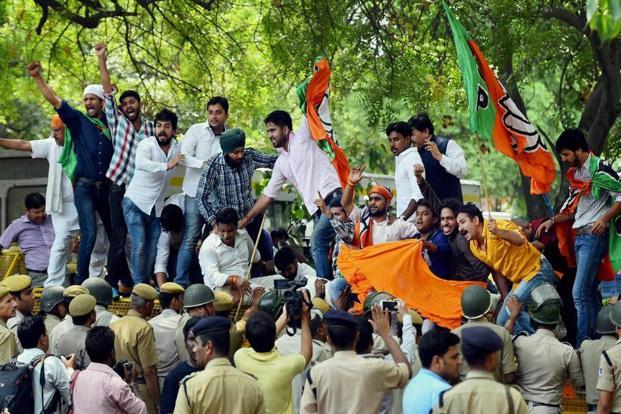 New Delhi :The Bharatiya Janata Party (BJP) on Monday staged a protest outside Congress chief Sonia Gandhi's residence over party leader Digvijaya Singh's statement terming the Batla House encounter as "fake". It is very surprising that Congress and BJP are uttering the same words in the Batla House encounter case ,then where is the conflict?
Congress spokesman ,  Randeep Surjewalla said, at the party's media briefing that "On the Batla House encounter case, the then Congress government and the then home minister (Shivraj Patil) had considered an entire set of evidences and examined all the facts and they had taken a correct decision. The decision (that it was a genuine encounter) was upheld by the court and NHRC.
Digvijaya Singh is still maintaining  the fact that the 2008 Batla House gunfight was a "fake encounter" .As an individual Digvijay may hold diverse opinion on the incident but the question remains why the senior congressman  has stuck to his words till date .
BJP leader Satish Upadhyay today said that the Congress and especially Sonia Gandhi have always been double-faced. When the Batla encounter took place, the Congress leader said the encounter was fake."We demand an apology from Sonia Gandhi. The Congress should not play the politics of dividing the nation," Upadhyay said.
The Batla House encounter took place on September 19, 2008, during the Congress-led United Progressive Alliance (UPA) regime, against students in Jamia Nagar of Delhi. Two suspected terrorists were killed in the shootout, while two other suspects were arrested.Encounter specialist Inspector Mohan Chand Sharma, was also killed in the incident.
Recently,a TV channel telecast a vedio footage which claimed that one of the suspects, Bada Sajid, who reportedly had escaped on the day of incident, was seen in an "IS video",but what is the guarantee that the person shown in the vedio is Senior Sajid , who will decide ?
Please follow and like us: