Beni prasad Agarwal calls for united efforts for Asian Unity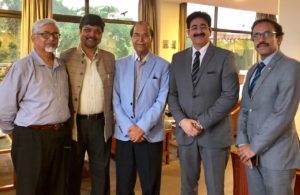 Association For asian Union (AAU) IS PLANNING TO HOLD A MEGA EVENT ON "CHALLENGES IN ASIA AND RESPONSIBILITIES Of NATIONS " ON 31 AUG. 2018.
ADDRESSING THE MEETING OF AAU TODADAY AT IIC New Delhi, THE CHAIRMAN DR Beni Prasad AGGARWAL URGED THE OFFICE BEARERS TO GEAR UP FOR ORGANISING THIS MAJOR EVENT.
DR Beni Prasad called for united efforts by Asian nations to overcome the challenges of the reagion.
He furthet said,that "INDIA and Pakistan should learn from North and South Korea "to pave the way for another historic moment in the Asian Continent ".
Support of cross-border Terrorism from any side has been the stumbling block.
But to remove that block itself talks are needed he added. It would be better to nudge ourselves than be nudged by some super-power.
On the occassion President of AAU Sandeep Marwah also emphasized the need for uniting think tanks from across Asia .He called upon the office bearers to put in sincere efforts to match ahead for strengthening Association For Asian Union.
All General Secreteries were present on the occasssion.
Please follow and like us: