Tuesday: 3rd April 2018:
On 3rd April 2018,Media 24*7  has organised 'Bharat Samaj Ratan Awards ceremony'.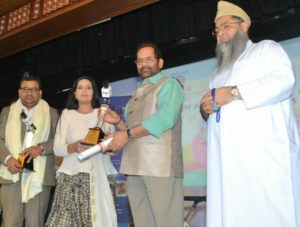 At the presentation ceremony of the 'Bharat Samaj Ratan Award' at the India  Islamic Cultural Centre,(IICC) ,Lodi Road  New Delhi Mukhtar Abbas Naqvi, Union Minister of Minority Affairs with Mr, Maroof Raza Editor-in-chief Media 24*7, presented the awards to more than 100 awardees from different fields for their contribution to the society.
After several months of deliberation, Media 24*7 'Bharat Samaj Ratan' Awards  dream came true and felicitate to awardees from different stream of life , like  JOURNALISM, SPORTS, PEACE & COMMUNAL HARMONY ,EDUCATION, ART & CULTURE, MEDICAL  and  SOCIAL WORK.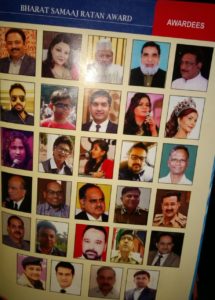 Some prominent awardees are as follows:
Medical :Dr, D. K Gupta , Dr , Shakir Jameel , Dr, M . Akhtar Siddiqui and Dr Anupama khanna
Education : Stephan Decosta , Sushil kumar Singh , Sivani Sharma , Susheel Bharti
Sports : Sabir Bux , Sudhir Phogat, Palak Kaliya
Social Work :B.K.Goyal ,Haji Mattan , Farida Begum ,Dwarka Prasad Gupta , Nishi Singh, Renu Gupta ,Barkha Varsha , Purushottam Bhatt
Art & Cultire : Sweta Padda , Maya singh , Salman Ali , Danish Hilaal , Kanika Dasauni
Communal Harmony & Peace : Dr, Umair Ilyasi Imam , Acharye Lokesh Muni , Gaddi nasheen Syed Fakhre Qazmi Chishti ,Father Bento , Sardar Paramjit Singh Chando and Proff, M.M. Verma
Bureaucracy :S.M khan , Girija shankar , Alok kumar , V. Rao  and Noida IPS & IAS officers
 
Union Minister Mukhtar Abbas Naqvi, Senior Politician Amar Singh, Minister of State for social justice and Empowerment RamdasAthwale, Union Minister of state Arjun Ram Meghwal, Senior Journalist Abhigyan Prakash and many other dignitaries were part of the ceremony.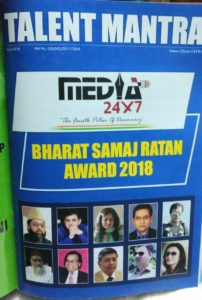 Senior Journalist and Editor in chief of Media 24*7 took this initiative and got success in bringing all Dharama Gurus under the umbrella of Media 24*7,to spread communal harmony and peace in the Nation .On this occasion  Imam Umair Ilyasi, Acharya Lokesh Muni, Ajmer Dargah Gaddinashin Sayed Fakare Qazmi Chishti, Father Bento stood altogether and gave the message of peace & Harmony to the Nation. 
After the Success of the event of first Media 24*7 'Bharat Ratan Samaj' awards, Editor in chief of Media 24*7 Maroof Raza promised to the Guests and dignitaries that this kind of programes will be carried forward. He further said we are committed to serve the Nation and Humanity ,and of course we feel our accountability and responsibilities towards society and the Nation too.
Al Khadam Group has played a vital role to accomplish the dream of  "The Bharat Samaj Ratan Award Ceremony 2018".
Please follow and like us: