30th National Convention on Unani Medicine and Installation Ceremony of Maharashtra state and Nagpur held on 24 December 2017
Will extend all help for Unani medicine: Mayor Nagpur Madam Jichkar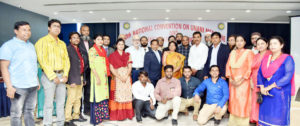 Nagpur: 'I will extend all support to the promotion of Unani Medicine system as this is one of the very effective Indian traditional system of medicines'. This was announced by Mrs Nanda Jichkar, Mayor Nagpur Municipal Corporation, here on Sunday at the 30th National Convention on Unani Medicine and Installation ceremony of Maharashtra State and Nagpur City. She also said the corporation would appoint Unani doctors at its primary health centers.
Speaking at the Convention as chief guest, Mrs Jichkar assured to appoint the Unani doctors.
She also asked the Unani Tibbi Congress, the representative body of Unani doctors to see her for resolving their any problems. she also lauded that many women Unani physicians are attending the conference.
On the occasion, former mayor Mr Pravin Datke also appreciated the services of Unani doctors in the city. He told the audience that he would extend all helps in solving the problems of Unani fraternity.
Earlier installation ceremony was held as the central leadership of All India Unani Tibbi Congress  awarded certificates of appointment to Dr S.M. Yaqub as the patron of Nagpur Unani chapter, Dr Syed Mehdi Hasan Abidi as President of Nagpur Unani chapter, Dr Tausif Ali as secretary, Dr Kashifuddin Raza as Treasurer.
During the convention, Prof (Dr) M A Farooqui presented a talk on Diabetic Foot and his experiences in treatment of such patients. Another notable speaker Dr Ubeidullah Baig delivered a lecture on 'Simple Unani Medicine Uses for Clinical Practice'.
National president of Tibbi Congress Prof Mushtaq Ahmad also spoke on the occasion while Dr Syed Ahmad Khan underlined the activities of the Tibbi Congress in the last one year and its achievements.
A number of distinguished guests including Dr Shaikh Ibrahim Waqif, Dr SM Husain, Dr Ketan Patel  (CCIM Member), Dr Mujibur Rahman, Dr Ghulam Mohammad Iqbal, Dr Talat Husamuddin, Hakeem Safiullah Baig, Hakeem Khwaja Husain, Dr Azim Baig, Dr Aves Hasan, Dr Shrikant Wanikar, Abdul Bari Masoud and others. Dr Aziz Solanki, Dr Humaira and Dr Zoha Babar conducted the proceedings of the program. Vote of thanks by Dr S M Yaqub.
Released by
Dr S M Yaqub
Vice President, All India Unani Tibbi Congress
Maharashtra State
Mobile: 9422804375
Please follow and like us: